Here it is, the first official look at Brad Bird's mysterious Disney flick starring George Clooney, Tomorrowland. So little is known about this (but there's been plenty of fun wild speculation as to the plot) that it's exciting to see this official look at (and plot of) Disney's world of tomorrow!
Thanks to Entertainment Weekly, we now have concept art (created by legendary artist Syd Mead) of this brave new world. The movie will be directed by Bird, but it's also co-created by Damon Lindelof, so be ready for lots odd plot twists.
EW also has a collection of stills from the film but there's nothing super spoilery out. However, the shot of Clooney does seem to validate the speculation about the strange secret lab hidden in the past world—perhaps it's the room with all the screens? As for the official plot, this is what Disney gave EW:
A Florida girl who dreams of the future while watching the launchpads of Cape Canaveral being disassembled goes exploring one day and, after landing in a bit of trouble, finds herself in possession of a mysterious pin. Touching it reveals a vision of a place that may not be a different world but simply a better one. [the concept art above] Then it's gone — out, out, brief candle! — and the quest to discover the real Tomorrowland begins.
G/O Media may get a commission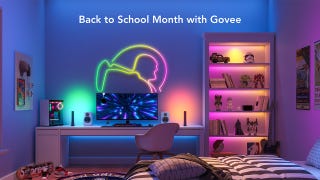 Back to School
Back to School Month with Govee Sale
This pin leads the main character (the young girl) to Frank Walker (George Clooney). Clooney plays a failed inventor and together they work to find Tomorrowland. Walker is a boy genius turned hermit, and part of his arc as a character is how the search for Tomorrowland will reawaken the optimism of his younger days. This seems to be the story's main theme: that looking back toward this retrofuturistic world can offer us hope and inspiration for the future.
For more details and images, head over to EW.