Marc Webb explains why all the villains in Amazing Spider-Man 2. Find out how Maze Runner changes the book. Norman Reedus calls The Walking Dead season 5 "totally insane." And Assassin's Creed closes in on a director. Plus, Bridesmaids director Paul Feig is doing a space adventure. Spoilers now!
Top image: Donal Logue as Harvey Bullock in Gotham
The Amazing Spider-Man 2
If you were wondering why all those villains are in this movie, Marc Webb had reasons for each of them, telling Super Hero Hype:
I really wanted to do Electro, so he became the main adversary for Peter Parker and for Spider-Man. After a while, it's really about revealing different facets of Peter and Spider-Man's personality. For me, I want to push my characters to the extremes. I want to see them experiencing great joy, but also I like to see them crack open, because that's what it takes to move me. There's a purpose for each one of those characters, and they display something different. Like Rhino or Alexsei at the beginning of the movie, it's about embracing that humor, that funny bombastic character that you love from the comics. That Spider-Man that's like colorful and bright, and he's just great at fighting crime and he's having fun doing it, and he's so good at it. He's not just clubbing these guys, he's telling them jokes and he's asking them to stop, but he's being what Spider-Man was, which is a more clever superhero.

Then, Max Dillon actually, there's a different facet of Peter Parker that we learn about, which is he's an empath. The first time he meets Max Dillon, Max is like, "How do you know my name? I'm a nobody." Spider-Man stops for a second and says, "You're not nobody. You're a somebody. You're my eyes and ears." He recognizes a part of himself, and he's like, "You're an underdog like me. Like, I'm a nobody, you're a nobody…" That's the great power of Spider-Man is to enthuse and encourage and inspire people, and it's what in the first movie, when he talks to that kid: "Put on the mask. It's going to make you strong." He tries to make people the better versions of themselves and helps want them to find their own gifts and need to be a little bit broad about it. Even in Times Square, he does what nobody else is willing to do. Like he talks to him. He listens to him. There's that moment of him trying to empathize with that character. That's fundamentally Spider-Man, which is different than Iron Man, it's different than Thor. I think that humanity is a really misunderstood and overlooked part of that character. So that's Max Dillon and Electro, and then there's obviously physical challenges that character presents, which I think are fun to resolve.

Harry is his best friend, and Harry has access to Peter Parker in a way that none of the other guys do. He knows what makes him tick. The vulnerabilities of the heroes are what make them interesting. Superman has his Kryptonite and love is Spider-Man's Kryptonite. That's where he's most vulnerable. It's so relatable that that's I think one of the reasons why he's still lasted as long as he has. So each of those things have a different inflection. The wound that makes him aware and able to connect with people that is so important, that wound comes from his parents abandoning him, so we're dealing with that, too. So there's all these different inflections. For me, all those are such pivotal important parts of the movie that they require attention, and then there's the Aunt May part of it and the issues with Aunt May. If the family wasn't there, he probably could've ended up like Electro, you know?
Apparently if you use Shazaam during the end credits song by Alicia Keys ("It's On Again"), you'll "unlock a look into the sinister future" — a glimpse of all six members of the Sinister Six: Green Goblin, Dr. Octopus, the Rhino, the Vulture, Mysterio and Kraven. See all six images from this sneak peek below. [Coming Soon]
G/O Media may get a commission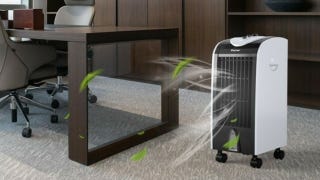 Save $10
Evaporative Portable Air Conditioner Cooler with Filter Knob
---
The Maze Runner
Slashfilm has a pretty in depth report from their set visit, including that Wes Ball describes the film as "Lord of the Flies meets Lost" and a children's film "with teeth." They also have a run down of the major changes the film's made to the book's story:
The psychic connection between Thomas and Theresa is not in the film. The film does have flashbacks that show that Thomas and Theresa knew each other previously. Wes didn't like the telekinesis and wanted to do something more visual. The film still shows moments that the two characters have connected moments that readers of the book will likely notice. And they could evolve into telekinesis in the second film if they decide to.
Wes has changed it so that the gladers have created their community and buildings themselves.
In the film, when Theresa comes up in the elevator she immediately wakes up from her coma, but in the book the character remained in a coma for almost half the book.
Ben (played by Chris Sheffield) is a runner in the movie but was not a runner in the book.
The changes to telekinesis and the coma were approved by the novel's author, James Dashner.
They've also got descriptions of the concept art of the Grievers, which are like giant metal fleas with stingers and dangerous appendages, and the majority of filming taking place Thompson farm in St Francisville / Jackson Louisiana, outside Baton Rouge.
Tons more at the link. [Slashfilm]
---
Assassin's Creed
New Regency is reportedly in talks with Justin Kurzel to direct the Assassin's Creed, starring Michael Fassbender. Kurzel is already working on finishing an adaptation of Macbeth, which also stars Fassbender. [Variety]
---
Dracula Untold
Sarah Gadon has an interesting description of the new film:
It's an action film but it's also really a fantasy film. I'd say it's more of a family fantasy film. . . . It's about a family as well. It's going to be a PG-13 film and it is more about the family than it is about sexual angst.
---
Max Steel
Andy Garcia will play Dr. Miles Edwards in this cartoon/toy adaptation. [Coming Soon]
---
The Walking Dead
As is the case with people on most shows of these kinds, Norman Reedus doesn't know and can't say much about season five, but what he has so far he's really excited about:
A bit. Those guys are very good at telling you a bunch of stuff, and you sit there for an hour and you walk away and go, 'What the hell did he just say? What's going on?' They're very good at masking what they want to tell you.

. . . From what I know, it's gonna be just completely insane. I sort of knew I needed like a good month to rest to jump in. The storyline they're throwing me is a thousand miles an hour.
---
Gotham
Donal Logue says that, although the show involves his character in the death of the Waynes, the real connection is that of Jim Gordon and Bruce Wayne:
The connection is between Gordon and Bruce Wayne. I'm certainly there for it. I'm more than anything probably concerned about it because it interferes with the proper flow. It's almost like I've seen a young doctor get emotionally involved with a patient. Or, in Law & Order, it's like Amaro, a detective who becomes too emotionally involved in his cases or allows the difficulty in his personal life to affect his ability to do his job. So I think there's a lot of parallels between those different worlds.
As to how the young versions of the characters we know will develop in the series, Logue says:
[They] develop in this vacuum that's created with the death of the Waynes. It's almost like the mama and papa bears of Gotham, the people who kept it together, who had all the charity fundraisers, the people who have the biggest financial stake, have passed away. Also, Gordon's father, who played a big role as the DA, who had the respect of the criminal underworld because of how principled he was. So it's pretty fascinating. I kind of know what's going on with Penguin, and I know with some other characters, but the other ones [Bruce and Selina] are so young. We're just starting to get a glimpse of catching them at that moment in their lives, where they're making these decisions to become who they would become, say, a decade or two down the line, if that makes sense.
[IGN]
---
Outer Space
Yahoo! announced it was making an eight-episode, half-hour series called Outer Space by Paul Feig, of Freaks and Geeks and Bridesmaids fame. The show will follow a "misfit group of space adventurers who stumble upon an alternate universe." [Variety]
---
Penny Dreadful
Go here for more photos from episode 1.o2, "Seance." [SpoilerTV]
---
Once Upon a Time
Go here for more photos from this Sunday's "Kansas." Looks like the two major arrivals will be Dorothy and the Charming baby. [TV Line]
---
The 100
Go to the link for a sneak peek at tonight's episode. [TV Guide]
---
The Vampire Diaries
Here's a clip from this week's "What Lies Beneath":
And here's a new promo photo from that same episode. [SpoilerTV]
---
Arrow
Here's a clip from tonight's episode, "City of Blood":
---
The Leftovers
Here's a new poster. [SpoilerTV]
---
The Strain
Here's a new teaser. [via SpoilerTV]
---
The Last Ship
And here's a promo for the Michael Bay-produced new show. [via SpoilerTV]
Additional reporting by Charlie Jane Anders and Madeleine Monson-Rosen