Here it is: the first teaser trailer for The Host, the movie adaptation of Stephenie Meyer's non-Twilight novel. It's very much a teaser, which doesn't really contain any proper footage from the movie, but I like the creepy voiceover a lot.
This movie is being directed by Andrew "Gattaca" Niccol, the master of creepy dystopias — so it might actually be pretty good. Plus we kind of liked the novel, despite some of the weird gender/sexuality stuff in it. Plus the book isn't as a sacred text to millions of people the way Twilight is, so maybe Niccol will have some freedom to make changes as needed.
We can hope, anyway. Here is a synopsis, plus a couple of photos from the film, featuring Max Irons and Saoirse Ronan, via People.
G/O Media may get a commission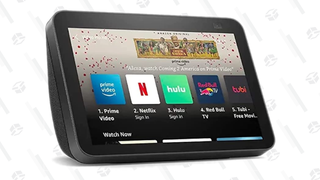 Based on the best-selling novel by TWILIGHT SAGA author Stephenie Meyer, THE HOST is a riveting story about the survival of love and the human spirit in a time of war. Our world has been invaded by an unseen enemy. Humans become hosts for these invaders, their minds taken over while their bodies remain intact. Most of humanity has succumbed.

Watch the trailer in HD at the link. [Yahoo! Movies]