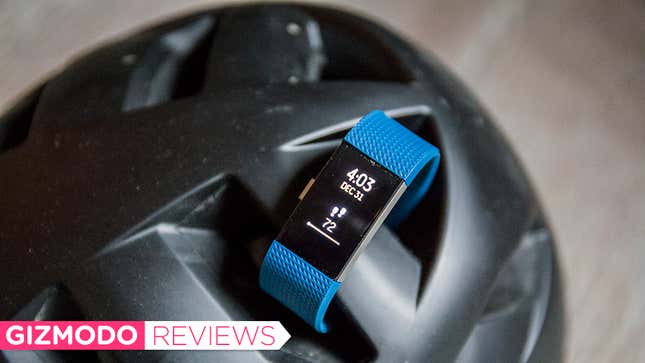 Fitbit is quickly becoming the Xerox or Kleenex of fitness trackers, but its popularity hasn't come without a few hurdles. With the Fitbit Charge 2, we finally get a device that's polished enough to justify the hype.
Meet Microsoft's New Surface Laptops
When the Fitbit Charge and Fitbit Charge HR hit the market nearly two years ago, it seemed like the company had finally refined its ideas into a solid tracker that could help basically anyone live a little healthier. Unfortunately, mass market appeal revealed some flaws. The fixed band was plagued with reports of peeling, and the devices were marred by occasional data synchronization issues.
The Fitbit Charge 2 addresses some of the technical annoyances of its predecessors, and adds a sleeker design, as well as some new features, like a Relax Mode (for chilling out), more granular fitness data (for when you're trying to go HAM), and a better screen (for checking texts from your mom). The result is the best fitness tracker you can buy for the eminently affordable price of $150.
A lot has changed in the world of wearables over the last two years. (I traded in my Fitbit for an Apple Watch 18-months ago.) Fitness trackers and smartwatches have continued to blend into one another, and as a result, it's impossible to review the Fitbit Charge 2 as just a gadget for health nuts. It's a great fitness tracker, to be sure, but that's just not enough any more.
While it's still very much a tracker in design and functionality, it's also almost like a smartwatch, without actually being a smartwatch. For example, the Charge 2 lets you know when you get a call or a text, but not a Slack or Facebook message. In terms of battery life, however, the Charge 2 is fortunately not smartwatch-like. Coming from a smartwatch that gets about 24 hours, it's nice to get five days on a single charge.
The Charge 2 checks all the boxes of what you want in a solid fitness tracker, like continuous heart-rate monitoring. It also includes a new Relax mode aimed at helping with guided breathing. Relax is similar to the Breathe app on WatchOS 3, and the idea is to take more deep breaths to control your breathing and lower your heart rate.
In terms of actually checking your progress, you can see some stats on the Fitbit itself or view them all in the Fitbit app for desktop or mobile. Pairing the Fitbit Charge 2 with my Mac and iPhone was super simple. I like the Fitbit app, which offers real-time assessment of your activities, steps, sleep patterns and heart rate. Still, it's weird to spend so much time inside an app to see this sort of stuff. On a smartwatch, you see it all on the device itself.
The design of the Charge 2 reminds me a lot of the Fitbit Alta. This is a good thing. I have very small wrists and I like that the Charge 2 doesn't look like a monstrosity on my body. I also like that there are now leather and different colored band options for the Charge 2.

The silicon band that comes with the Fitbit Charge 2 is comfortable. I had no problem wearing it all day, or sleeping with it. Fitbit has had problems with its bands before, where they've peeled or caused rashes, but fortunately it looks like this was sorted out, and even if it isn't, you can always replace it.

The 1.5-inch OLED screen on the Charge 2 is four-times larger than that of the Fitbit Charge HR. You use the device by touching the side button and then tapping on the screen. But even though the screen is tap responsive, it's not a touch screen. It responds to taps, but you need to press and hold the side button to access the features.
Unlike the Fitbit Flex 2, the Charge 2 is not waterproof. For me, that's fine, but it's disappointing that Fitbit couldn't bring some of that tech to this device too. It would be another good value add, especially in light of what other fitness trackers and smartwatches offer these days. Even the Apple Watch can go for a swim.
However we did test out the Charge 2 in a quick dunk-a-thon and it survived just fine.
The Charge 2 will now automatically track your activities without you having to tell it what kind of exercise you're doing. In theory, that's awesome, but in practice I found it took some time for the Charge 2 to pick up on what I was doing. If you're doing a quick 10-minute jog, it might not register.
Still, I was impressed with how it was able to notice my 45-minute run without me even having to tell the device I was running. Plus, it's very easy to start a manual activity interval on the tracker itself.
The Charge 2 can also measure VO2 max levels. This isn't measured by the new sensors, instead it's done running the data from the heart-rate tracker through a special algorithm. That's great and all, but I have no idea how accurate the tracking rates actually are. I also don't really care about VO2 tracking, but if you do, it's here.
And speaking of tracking, the Charge 2 uses the same heart-rate sensor as the Fitbit Charge HR and the Fitbit Blaze. You know, the ones that were scrutinized earlier this year for maybe not being so accurate. That said, in my tests, the heart-rate tracking matched what I saw on my Apple Watch. I also tend to trust our friends at The Wirecutter, who found the tracking accuracy to be just fine.

Like the Charge HR, the Charge 2 can offer wrist notifications for calls and texts. It now includes calendar reminders too, though on iOS that's limited to the built-in calendar app. Overall the notifications feel limited.

The Fitbit Charge 2 is not a smartwatch—that's what the Fitbit Blaze is for—but after using an Apple Watch for the last 18 months, I sort of have a hard time telling the difference between the Watch and the Charge 2. Although, there were definitely times when I used the Charge 2 that I wished I could get Slack notifications on my wrist.

And honestly, that's my only real complaint about the Charge 2. It's a great fitness tracker. I would say it's now the best fitness tracker for the money on the market, and if you just want a fitness tracker, this is the one you should buy.

But we're now in a weird place where fitness trackers and smartwatches are really starting to converge. With new, more fitness-focused, Android Wear devices coming out and the new Apple Watch Series 2 in stores, it's worth considering whether you want to pay $150 for the best fitness tracker, or a couple of hundred dollars more for something that will do all your fitness stuff and act as a great smartwatch.
README
Good design with comfortable, not-ugly bands
Not waterproof. Bummer.
Tracks activities, heart-rate and steps
Does some smartwatch-like stuff, but not enough to be a smartwatch killer
Awesome 5-day battery life
Relax mode helps you de-stress. Maybe.