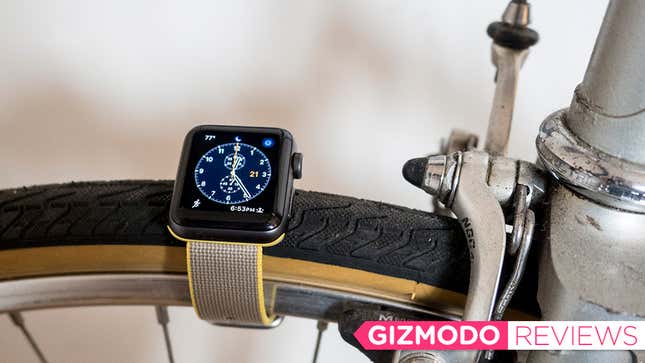 The original Apple Watch wasn't amazing, but it did what it set out to do. You could answer phone calls on your watch, see notifications from your phone, and even track your heart rate. And with the most recent software upgrade, the watch has speed and interface improvements that refine it further. You can now text from the thing! Or write an entire e-mail. The trouble is that only super nerds want that kind of smartwatch, so for the new version, called Series 2, Apple's focused on what people really demonstrably want: a fitness tracker.
Apple's Vision Pro Seems Powerful, But Who Is It For? | Future Tech
The first Apple Watch (now called Series 1) was more a whiff than a home run. It was an objectively ho-hum device, which didn't do enough to justify its myriad inconveniences, including laggy performance, terrible battery life, and confusing controls. Thanks to that Apple allure, though, it's the best-selling smartwatch of all time (which isn't saying much). It still sits well behind the best-selling wearable brand, Fitbit, which has 24.5 percent of the market, where Apple holds just 7.5.
A big reason is price. The best tracker Fitbit has to offer is just $150. A Series 1 Apple Watch originally retailed for $350, and even at the discounted $270 price, it's very expensive. And Apple miscalculated when it envisioned the original Watch as a fashion item. That made it a hard sell to watch fans, who want a watch to appreciate in value, not depreciate like a tech product. It also made it a hard sell to fashion fans, because despite the number of pricey bands available, it's still pretty square.
But perhaps the biggest reason is that no one especially wants a smartwatch. They don't contribute meaningfully to your life like a smartphone or a fitness band. A phone is a necessity, and a fitness band, like yoga pants, sneakers, and Under Armour shirts, instantly brands a person as committed to health—not to mention the fact that it actually does something useful. The original Apple Watch previously just branded you as a tool with a decent credit line and a passion for notifications.
Looking at the sales numbers, it makes complete sense that Apple would stop marketing the Watch as the future of wearable tech and fashion and start marketing it as the best-looking and most fully-featured fitness tracker on the market. By combining the new fitness focus with a great OS update, an improved battery, and better speed, the Apple Watch has suddenly become a device a rational human might buy without remorse.
Apple managed to stuff some impressive new capabilities into the now-familiar boxy chassis of the Watch. In addition to the optical heart-rate monitor and movement-tracking accelerometer from the Series 1, the new model introduces an insanely accurate built-in GPS for tracking runs, rides, and lazy dog walks. The new Watch also has a waterproof mode, which you turn on with the tap of an onscreen button. So you can take it into a deluge, or swimming, or you can sweat all over it like the gross garbage monster you are. It's a bummer you have to remember to turn on waterproof, but our review unit got wet plenty of times when I was washing my hands, and the device survived fine.
These upgrades are all nice, but it's worth noting that they are standard features on fitness smartwatches like the okay Moto360 Sport and the ugly as sin but super serious Garmin Epix.
Mercifully, the Apple Watch doesn't look like gross fitness gadget.Instead of screaming, "I'm training for a triathlon," it screams "I like to look like I exercise, and also aren't these interchangeable bands cute?" The basic plastic and nylon straps perfectly nail the trendy fitness aesthetic, and are light enough that you never really worry about the watch futzing with your pacing. The pricier bands might not be as comfortable for workouts. I rock a metal band on my Series 1 and it's heavy enough to make it a real distraction when attempting any kind of high intensity exercise.
If you never use the Watch's on-board GPS (you can use your tethered phone's GPS instead) you get a nice boost in battery life with the new Watch. It's not enough to make the Series 2 a device you can sleep with—it and the Series 1 are strictly charge every night gadgets—but you can, on occasion, forget to charge and make it through quite a bit of the next day. Most evenings my Series 1 is hovering around 20 to 30 percent battery. The Series 2 hovers around 50 percent.

A larger battery to handle GPS isn't the only reason the Series 2 seems to last a little longer. Despite having the potential to possess a much brighter screen (Apple claims an output of 1000 nits—which is twice as bright as an iPhone) the Series 2 is smarter about its automatic brightness. It's dimmer in low light than the Series 1 and only seems to crank out its max brightness when in direct sunlight. That translates to the Series 2 not using as much juice to make the watch face visible.
There's another major change to the Series 2 that isn't related to fitness or better power management. The Series 2 is faster than the Series 1—which already saw a huge speed boost from WatchOS 3. The new device uses the same processor as the Series 1, but a new graphics unit makes animations quicker, which means it opens apps faster. The Philips Hue app takes 2.42 seconds on a Series 1, but just 1.67 seconds on the Series 2. And both Dark Skies and Fantastical open in under a second, while it took a little more than a second to open them on the Series 1. These aren't revolutionary numbers. They're not upgrade-worthy, but they're noticeable.
Beyond the new hardware, a big reason both versions of the Apple Watch are now legitimately good is WatchOS 3. Scribble, Apple's new writing recognition feature, makes responding to texts or Slack chats almost as easy as responding on a phone. The Workout app, and accompanying Activities app for iOS, is every bit as good as the software made by Fitbit and its ilk. And the Breathe app is a completely dopey attempt at alt-medicine mindfulness, but it's also a nice way to take quick break if your anxiety is flaring.

If you are watch-free or looking to upgrade from a boring fitness tracker with a sparse selection of notifications and relatively uninspired chassis, then it's time to consider an Apple Watch. It's the next logical upgrade from a tracker like the Fitbit Charge 2 (or the Charge HR). At $350, it's expensive, but at least it doesn't feel like a product in beta any more.
This focus on fitness could be what Apple, and the smartwatch industry overall, needs to take the smartwatch from a Dick Tracy dream for gadget nerds to hardware on every wrist. While the upgrades are minor, between them and the fantastic WatchOS 3, we finally have a smartwatch that feels worth it.
README
Improved battery life and a boost to speed are appealing, but not worth the upgrade if you have a Series 1.
Not worth the buy over the Series 1 unless you need waterproofing or GPS.
WatchOS 3 has made the Apple Watch fantastic.
I accidentally answered a call from my mom on it the other day. She said hey to the Giz readers. Then she hung up because she couldn't hear me very well.