The holidays are here again, which means just another round of the same old boring stuff that happens every year: overcooked dinners, kids who won't listen, and decorating processes that are more life-threatening than fun. Or...rather than having another mundane holiday full of terrible, take matters into your own hands and upgrade your holidays with some techie conversation-starters, such as the ones listed below!
Is AI Moving Too Fast? | Future Tech
The nostalgia factor of the Polaroid Instant Digital Camera alone will make you the darling of any holiday party. It's just like Ye Olde Polaroid, with a built-in printer and 3x4 prints with that write-on-able strip, but this time around it digitizes the images so you can dispense multiple copies of the photos you take and store them on an SD card. The 14 MP camera has a 2.7" bright color LCD for viewing images. >>Buy<<
We bet your Auntie Lucy doesn't have a way to watch Netflix streaming video (or Hulu Plus and Amazon's on demand store) on her ancient TV set. So just bring a Roku with you to the holiday dinner and blast through your Netflix queue after the meal. Everyone will be entertained, impressed, and will be so full they'll lack the strength to protest watching a film with subtitles. The Roku LT sells for $49.99, you can grab the Roku 2 HD for $59.99, the XD goes for $79.99, and the top-end Roku 2 XS will cost you $99.99. >>Buy<<
G/O Media may get a commission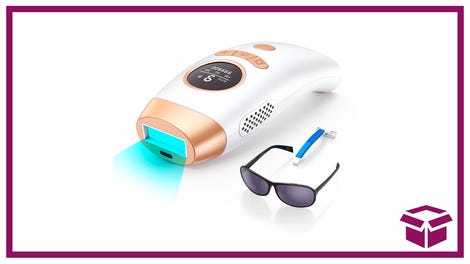 58% Off + Coupon
IPL Hair Removal Device
Losing contact with your aunts and the party planning essentials buried in your email inbox because of something as silly as spotty coverage simply won't do. With access to the blazingly fast Verizon Wireless 4G LTE network, the Droid RAZR (pictured above) is one of the fastest and sleekest phones you can find. It's also packing a dual-core 1.2GHz processor and a full GB of DDR2 RAM, despite being a pocket's best friend at only 7.1mm thick. But just because it's so thin doesn't mean it's not packing a huge 4.3" screen or isn't capable of streaming video directly to your TV in full 1080p HD via its integrated HDMI output. So with the Droid RAZR, you will be constantly available to the party planning committee, and, day-of, when the conversation grinds to a screeching halt, you can satiate the aunts by showing a legendary family slideshow—right from your 4G LTE-enabled RAZR. >>Buy<<
Yes, you read that correctly. This is a gun that shoots jerky out of it. It holds up to 1 1/2 lbs of any meat you want to jerkify, and with just a few squeezes of the fatigue-combatting Easy Squeeze Trigger, you are in the jerky business. Reports say this can save up to 40 minutes of the usual hour-long jerkification process. Comes with four stainless steel precision jerky attachments, a jerky funnel, stomper, and a cleaning brush set. >>Buy<<
These items will surely spice things up this holiday season. And to learn more about how the Droid RAZR by Motorola can upgrade your holidays, click here!