Click to viewChristmas is the covetous one, Thanksgiving the gluttonous one, but Halloween, the holiday that kicks off the great holiday trifecta, is the awesome, proud one. It's a day when even the most ordinary of citizens take self-expression to heart and fly their freak flag high. That is, once they can figure out what to be for Halloween. Below, a few suggestions of varying skill—some DIY, some store-bought—to help you avoid the dreaded Oct. 30 crunch.

Shaun of the Dead Lego Man Give yourself a weekend to assemble a peg head which involves cutting some Styrofoam, gluing it accordingly, and spray-painting the whole deal. Pair that with slacks, a short-sleeved button-up, and a tie. Short on time? Screw the head and just spatter some blood on your shirt and invest in one of those fratboy paddles. Everyday Zombie Get a posse of the walking dead to follow Shaun around. All this requires is a steady hand for make-up application and the willingness to destroy a few articles of your clothing.
Dr. Horrible We know what you're thinking: a wimp-out. Perhaps. But your resemblance will be unmistakable and timely, especially if you have to whip up an outfit on the fly. Keep this one in your back pocket in case of emergency. Space Suit Like the work of a bespoke tailor on London's Saville Row, this will never go out of style. Iron Man Once you've got the Arc Reactor assembled (a bit intimidating—but press on, grasshopper!), you can just throw on a tank top and pants. Optional accessory: muscle mass, which will exponentially enhance this look.
G/O Media may get a commission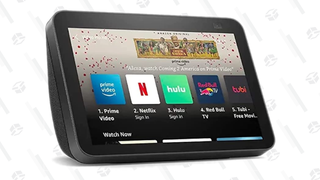 Darth Vader It's important to pay homage to the classics. Note: time-consuming and expensive. But what price villainy? Ghostbuster If you're the type that likes to go all out, then this is a project for you. Our advice: Start now!
Tron Dude Not nearly as intense and complicated as The Tron Guy's get-up, but this should easily do the trick nonetheless. Member of Devo …or a nostalgic alternative to the omnipresent alien costume. Build the gradated red hat, then dress like a beatnik from the shoulders down. Are we not men? Steampunker Say, have you heard about this newfangled steampunk fashion? Start here if you want to give a shout-out to the omnipresent resurgent subculture-of-the-moment. Then save your get-up for Comic-Con.
"I'm a Cylon" image courtesy of comeonworkitout and steampunk courtesy of hmschronabelle