Jodie Fisher, the former HP contractor who sued former HP CEO Mark Hurd for sexual harassment, stated this evening that she is "surprised and saddened" he is without a job. And she was a softcore porn and reality TV actress.
The statement was made by her attorney, Gloria Allred, and read in part, "I was surprised and saddened that Mark Hurd lost his job over this. That was never my intention."
She continued, "Mark and I never had an affair or intimate sexual relationship. I first met Mark in 2007 when I interviewed for a contractor job at the company. At HP, I was under contract to work at high-level customer and executive summit events held around the country and abroad. I prepared for those events, worked very hard and enjoyed working for HP. I have resolved my claim with Mark privately, without litigation, and I do not intend to comment on it further."
G/O Media may get a commission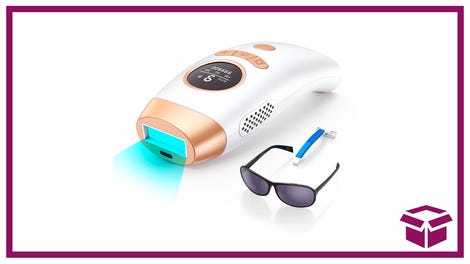 58% Off + Coupon
IPL Hair Removal Device
"I wish Mark, his family and HP the best," she concluded.
Oh, and she was an actress as well. Business Insider found her IMDB page and headshots. Boingboing notes her filmography's softcore porn background, too.
Ms. Fisher's film credits include a number of softcore adult films of the "Skinemax"/latenight HBO variety, filmed in the '90s: "Sheer Passion," "Body of Influence," and "Intimate Obsession," among them. She also performed in the television series "Silk Stalkings," and the noted B-schlocker "Blood Dolls."
And she was a contestant on NBC's reality TV dating show, "Age of Love" where younger and older women competed for the affection of a young bachelor. And she was an exercise infomercial host.
I smell bullshit. HP claims to have canned Hurd over principles of expenses being fudged—it must have been the principle if he walked away with a severance package estimated at $40m-$50m—and found him to have done no wrongdoing related to sexual harassment. It seems odd to let go of successful executives for fudged expenses or sexual harassment that never happened. It seems like either internal politics or that the harassment was real and that it was going to come out sooner or later, settlement or not. But this is just guess work on my part.