Chinese television is reporting a big explosion at Foxconn's Chengdu factory. The details are not clear, but we know that, sadly, at least two have been killed and it has happened in building A05, the production line for iPad 2.
Updated: Foxconn has sent us official details on the accident.
Right now, there are more than ten fire engines and ten ambulances at the scene. According to TV reports, the place is in chaos and Foxconn's spokesperson is still not answering his phone. Here are some videos of the situation:
Chinese media reported six men and one women sent to Sichuan Provincial People's Hospital at 9:00PM local time, two of them seriously injured. Later, they reported at least two people dead and 16 injured.
Apart from the tragic loss of human life, the accident—which the Chinese police claims was not caused by human error—can affect Apple's already troubled iPad 2 supply problems. So far, the explosion has for sure halted production in the iPad 2 assembly line, which may affect deliveries right away since the stock of Apple's popular tablet is non-existent—all the iPad 2 get sold straight from the factory.
G/O Media may get a commission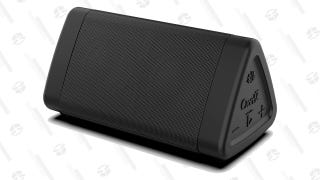 Save 31%
Oontz Angle 3 Portable Bluetooth Speaker
Apple has had problems meeting the demand for the device. Only a few weeks ago, the waiting for online orders was at 5 to 6 weeks. That time has been decreasing and it is now at 1 to 2 weeks. It's reasonable to think that the accident will delay these times again.
However, we still don't know the extent of the damage in the line, how many components were destroyed or when production would be re-established. [Micgadget]
Update:
We can confirm that at approximately 7 pm on May 20, there was an explosion at our Chengdu campus. At this point, we can also confirm that there were two fatalities with injuries to 16 other employees. We are working with medical officials to provide treatment to the injured employees and we are working with government and law enforcement officials to contact the families of all employees affected by this tragedy.

The situation has been brought under control by the fire department and the cause of this explosion is being investigated by local police officials. Foxconn is cooperating fully with that investigation.
Production has been suspended at the site of the explosion until the completion of the investigation. The safety of our employees is our highest priority and we will do whatever is required to determine and address the cause of this tragic accident.