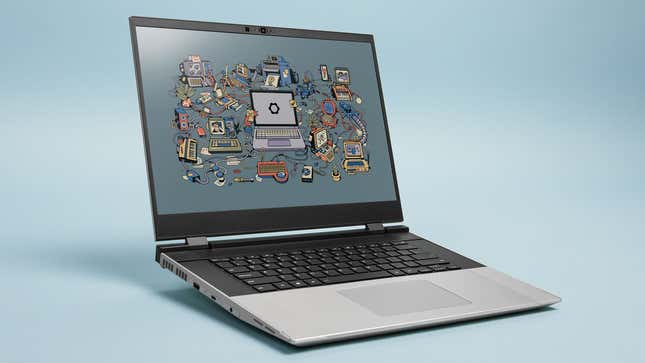 Framework's laptop may be modular and self-repairable, but that doesn't mean it can't be refreshed to keep up with new processors. The company held an event today to introduce several new configurations for the device, including the ability to upgrade to the latest generation of Intel Core processor. Framework is also finally adding AMD Ryzen chips to its offerings. And for folks wondering what to do with their old mainboards if they want to upgrade to one of these new ones, the company has teamed up with Cooler Master on a PC case, so you can transform that board into a secondary machine.

Asus ROG Flow Z13 Gaming Tablet Review
The most exciting part of the Framework event is the Framework Laptop 16, the company's first modular gaming laptop. The company's not strictly calling it a gaming laptop and it's not shipping until late 2023, but it clearly makes adjustments for gaming that the Framework Laptop 13 does not.
Framework Laptop 16
If you ever wanted a modular gaming laptop, Framework is shipping one later this year. The Framework Laptop 16 has a similar design language to its smaller predecessor, the Laptop 13, save for a 16-inch display. It has a modular keyboard area—or an "input module system"—which lets you swap a number pad in and out as you need it, as well as a keyboard with RGB backlighting—because is it gaming if it's not flashing in rainbow colors? Interestingly, Framework's using QMK's open-source firmware to develop the the Laptop 16's keyboard, which is what many artisan keyboards rely on for customization.
The Framework Laptop 16 will still employ a modular expansion system like its predecessor, though the company has increased the number of expansion slots from two to three on each side of this particular model. Perhaps the most "gaming" part of this modular gaming laptop is the Laptop 16's expansion bay, which sits at the back of the computer. This allows you to add an eGPU or upgrade your storage allotment. Framework is also making the expansion bay system open source and is encouraging developers to make card readers, video capture devices, and anything else that works with a PCIe x8 interface for the device.

Unfortunately, Framework's gaming laptop doesn't have any options for an internal GPU at the moment, but the expansion bay is built to be portable even with an eGPU inside it.
Framework adopts Intel 13th Gen and Introduces AMD Options
If you're shopping for a new Framework Laptop 13 or want to upgrade your existing machine's mainboard, you can now pre-order a Framework laptop or mainboard with the 13th-generation Intel Core i5/i7 or an AMD Ryzen 7040 series processor, including the Ryzen 5 and the Ryzen 7. This is the first time Framework has offered AMD chips.
The Framework Laptop 13 chassis is also getting a bit of a refresh. In addition to a higher capacity battery—61Wh versus 55Wh—the Laptop 13 now has a matte display, louder speakers, and "more rigid hinges." Note that only Core i7 configurations of the Laptop 13 have a bigger battery. You can also select the bezel and keyboard color on the DIY edition; new colors are coming out later this year.
If you want to swap out an Intel chip for an AMD one, the company says the onboarding processor is pretty straightforward. For Windows users, the device will guide you through downloading the drivers necessary for using the new board.
What to do with the old Framework mainboard?
If you decide to upgrade your mainboard, Framework has teamed up with Cooler Master on a Mainboard Case so you can still get some use out of your old one by turning it into a mini PC. We don't have measurements, but the computer case doesn't seem to take up too much space and is see-through. It will cost $40 when it launches in the spring. Framework has also launched open-source documentation for those who want to tinker with display and battery-enclosure modules. This will let you more easily re-use those parts of the Laptop 13 for other projects if you upgrade to a matte screen and a bigger battery.