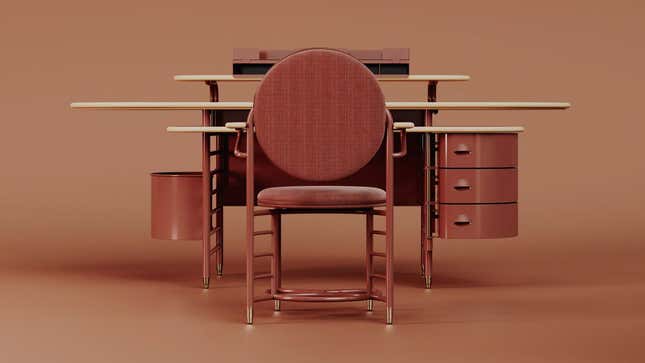 Frank Lloyd Wright was not only known for his iconic architectural creations like the groundbreaking Fallingwater house and the Guggenheim Museum, but also for designing many of the complementary furniture pieces found inside them. Steelcase is resurrecting some of those designs it helped Wright bring to life decades ago in a new collection now geared toward the home office.
Getty Images Wants AI to Stop Copying Them
In 1936, construction started on a new building in Racine, Wisconsin, that would serve as the world headquarters for S. C. Johnson & Son. Commissioned by the company's president at the time, Herbert F. Johnson, the Johnson Wax Administration Building was designed by Frank Lloyd Wright and is not only known for helping to revive the architect's career but for two very distinct design features: towering lily pad-shaped columns supporting the roof over an open working space known as the "Great Workroom," and the beautiful and highly functional office furniture found beneath them.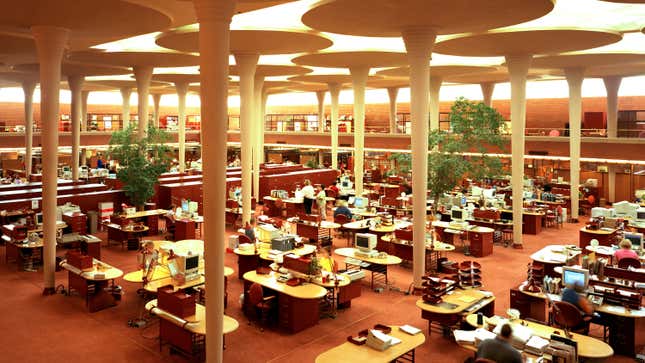 Steelcase is now known for its modern workplace pieces found in offices around the world—everything from office chairs to whiteboards—but the company has been around since 1912, and actually manufactured Wright's innovative furniture designs for the Johnson Wax Administration Building. Over 80 years later, Steelcase is now reviving them in a new Frank Lloyd Wright Racine Collection line with some modern updates making them better suited for working from home with modern equipment.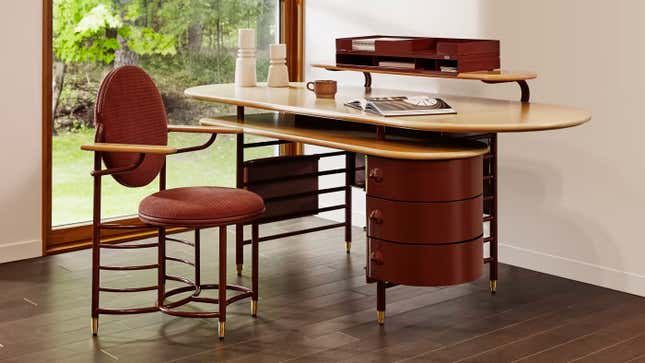 Leading the new collection is the Frank Lloyd Wright Racine Signature Desk featuring a multi-level design, integrated storage cabinets, and larger work surfaces when compared to the original. It's available in either maple or walnut woods, but with a $9,750 price tag, and without a chair, it's for die-hard Wright fans only.
By removing options like the integrated trash can, upper document shelf, and storage compartments, the Racine Desks become slightly more affordable, with price tags starting at just over $4,600. There are matching chairs available too (with four legs for stability, despite Wright's original design including just three to help promote better posture) which start at $1,800, with the option to add a pair of $338 armrests.
So while it's a collection geared towards those who're still spending lots of time working from home during the pandemic, it's not exactly priced for the other unwanted side effects of the past three years, including skyrocketing costs for everything from electronics to groceries.