Almost a year after a massive hack exposing the users of the infidelity website Ashley Madison, its parent company Avid Life Media is bringing on a new CEO and president to make some much needed changes. However, the company is also the subject of a new Federal Trade Commission investigation, according to Reuters.
Rob Segal will be taking over the reins from former CEO Noel Biderman, who resigned a week after the original Ashley Madison data breach last August. According to Segal, the company will be working with a cyber security team from Deloitte to shore up its own security holes. Segal also says that company is "truly sorry" for any pain these hacks have caused users.
On August 19th, 2015, a huge collection of data identifying users of Ashley Madison appeared on the dark web. Although the security breach became a nightmare for Avid Life Media, the real nightmare was only beginning. What came next was a tireless investigation into the company, including several Gizmodo reports, uncovering Ashley Madison's practice of masquerading fembots as living, breathing, and most importantly, female users.
But new president James Millership promises that the site is now 100 percent bot free, saying:
My understanding is that bots are widespread in the industry, but they are no longer being used, and will not be used, at Avid Life Media and Ashley Madison.
G/O Media may get a commission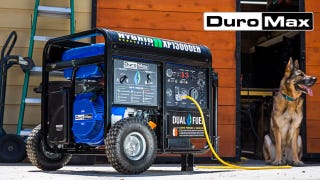 Black Friday Sale
DuroMax Generator Sale
Reuters reports that an independent investigation commissioned by Avid probed Ashley Madison's bot practices and found that company indeed used fembots to bolster its male-female ratio but supposedly cut back on the practice in 2014. However, some users were still chatting with bots by late 2015.
Gizmodo reported in September that the use of fembots on the site dates back to at least early 2012, when the first inquiries were conducted by the California attorney general. At the time, the company dismissed any bots on their site as the work of "criminal elements" creating bots to trick users. Later internal conversations showed that males users, who paid to send messages to female "users," were actually speaking with a bot 35 percent of the time, a percentage that even the site's COO described as "not so good."
Avid told Reuters that it doesn't know what the FTC's investigation actually involves but says that the probe into its use of fembots is "part of the ongoing process that we're going through."
But Ashley Madison's transformation from a fraudulent dating site to a more legitimate operation won't do much for the participants in the massive class action lawsuits against the company from customers in the US and Canada. One of those lawsuits is currently asking for $578 million, but people wanting to get money from the lawsuit will likely have to identify themselves to do so.
The company says its real male-to-female ratio is actually about five to one.