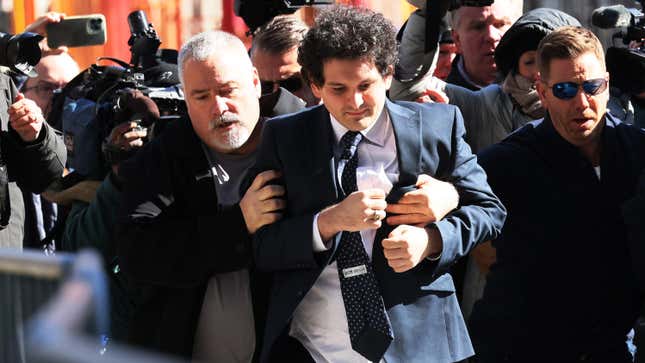 Former crypto golden boy Sam Bankman-Fried's calamitous time at his former exchange FTX was even more haphazard and ludicrous than previously stated. FTX's latest bankruptcy report filed Sunday adds additional fuel to the still-smoldering questions regarding just how greedy and corrupt its former executives were before the crypto exchange eventually collapsed.
The 43-page document shares that there's been several issues with trying to get millions of former FTX customers and investors their money back. FTX said there was a "lack of appropriate record keeping and controls" in its finances, accounting, governance, and even cybersecurity. The company has had to resort to looking through former execs' QuickBooks, Google docs, spreadsheets, and Slack records to get any insight into where the hell customers' money went. When it started this bankruptcy journey, the company did not "even have current and complete lists of who its employees were."
The latest document offers a look into a notoriously shady company that routinely mishandled customer accounts. The company said approximately 80,000 transactions made by the company were left as unprocessed entries in some QuickBooks accounts called "Ask My Accountant." FTX's hedge fund arm Alameda Research's record keeping was "so poor" that one document described how employees should "come up with some number, idk" for some crypto token valuations. Bankman-Fried, who often goes by SBF online, was quoted in internal communications saying "we are only able to ballpark what [Alameda's] balances are… we sometimes find $50 million of assets lying around that we lost track of; such is life."
According to the filing, the exchange's former execs were novices who "stifled dissent, commingled and misused corporate and customer funds, lied to third parties about their business, joked internally about their tendency to lose track of millions of dollars in assets, and thereby caused the FTX Group to collapse as swiftly as it had grown." Additionally, there was practically no oversight for any of the exchanges operations, and SBF even called some of its finances "unauditable."
Considering that FTX's list of debtors include Netflix, Airbnb, and DoorDash payments, it's easy to see why FTX would call its finances "commingled." In a release, FTX CEO managing the company's bankruptcy John Ray III said the FTX Group was run by just a few people who "showed little interest in instituting oversight or implementing an appropriate control framework."
Ray and those running the bankrupt crypto company hinted they're also being stymied by the active criminal investigations surrounding FTX's collapse. Sam Bankman-Fried is still awaiting trial over federal fraud and campaign finance violation charges. Execs like former Alameda Research head Caroline Ellison and former director of engineering Nishad Singh have already pled guilty to fraud charges in the U.S. For FTX, this means it's "not feasible" to interview them while Bankman-Fried is under strict federal oversight.
The fillings also mention the exchange suffered a "massive cyberattack" on the date of bankruptcy, draining FTX of close to $432 million.
Ray has already called out the former FTX execs in both the company's original bankruptcy filings as well as in congressional testimony where he called the crypto exchange "an utter failure of corporate controls at every level." The new FTX CEO has taken ex-CEO Bankman-Fried to task over how he and his coterie of young crypto fanatics reportedly bought property and gave themselves loans using company money.
FTX has been trying to drag back the billions of dollars spent by the company and former execs, even though it's had a hard time locating huge swathes of its finances. Recent bankruptcy filings showed that FTX paid out more than $3 billion to Bankman-Fried and other execs like Ellison and Singh.