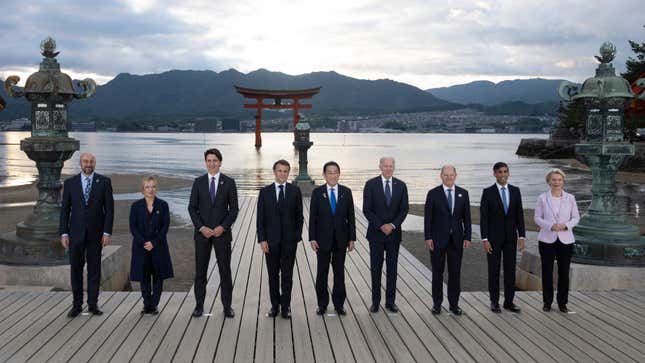 World leaders are addressing their concerns about AI at the G7 Summit in Hiroshima on Friday, suggesting that "guardrails" should be put in place to monitor the evolving technology. The summit, which will tackle other issues including the Ukraine War, China relations, and clean energy, is bringing the AI discussion to the table for the first time at the request of President Joe Biden's national security adviser, Jake Sullivan.
Is AI Moving Too Fast? | Future Tech
Leaders from the UK, France, Germany, Italy, Japan, the U.S., and Canada are attending the G7 summit, and European Commission President Ursula von der Leyen and UK Prime Minister Rishi Sunak said the nation will lead the movement toward better AI regulations. Sunak said that while AI could benefit society, it's important to introduce it "safely and securely with guard rails in place."
He told The Guardian, "I think that the UK has a track record of being in a leadership position and bringing people together, particularly in regard to technological regulation in the online safety bill … And again, the companies themselves, in that instance as well, have worked with us and looked to us to provide those guard rails as they will do and have done on AI."
The conversation comes as experts warn against the harmful effects of AI, and while much of the dialogue has revolved around ChatGPT, experts have expressed concern over AI's involvement in the health sector as well. Professionals from the UK, US, Australia, Costa Rica, and Malaysia wrote in the BMJ Global Health journal that the risks "include the potential for AI errors to cause patient harm, issues with data privacy and security and the use of AI in ways that will worsen social and health inequalities," The Guardian reported.
Sunak has long been an advocate for AI development, previously saying it does have the potential to benefit economic growth and transform public services, but at the G7 summit, he struck a more cautious tone, advising other leaders that they need to instead focus on regulatory measures.
Von der Leyen said at the summit's opening remarks that "artificial intelligence's potential benefits for citizens and the economy are great," but added the caveat "At the same time, we need to agree to guardrails to develop AI in the EU, reflecting our democratic values." She said in a statement to The Financial Times, "We want AI systems to be accurate, reliable, safe, and non-discriminatory, regardless of their origin."