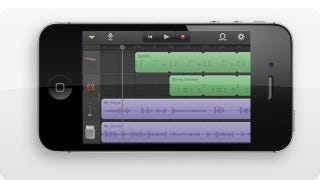 Apple's music creation app has broken free of its iPad-only chains and is now ready for iPhone and iPod touch-touting musicians. Just for the love of God, please keep your headphones on while you use it.
Apple announced the immediate availability of Garageband for the iPhone 3G and later and third and fourth generation iPod touch. If you've already paid the $5 entrance fee to GarageBand for the iPad, the upgrade to app the app to your other iOS devices is free.
Here's what's new according to Apple:
- Universal app designed for iPad, iPhone, and iPod touch
- Create custom chords for Smart Instruments
- Support for 3/4 and 6/8 time signatures
- Reset song key without transposing original recordings
- Transpose songs in semitones or full octaves
- Additional quantization options for recordings including, straight, triplet and swing
- New audio export quality settings for AAC and AIFF (Uncompressed)
- Arpeggiator available in Smart Keyboard
- Adjustable velocity settings for Touch Instruments
- Numerous enhancements, including automatic fade out and improved audio import options
Uncompressed audio means musicians will actually be able to output music from GarageBand into professional music applications. I'm happy I'll be able to record my sweet guitar solos to my iPhone instead of lugging the iPad around. I can just mount my iPhone directly to my guitar strap. [App Store]
---
You can keep up with Roberto Baldwin, on Twitter, Facebook, and Google+.