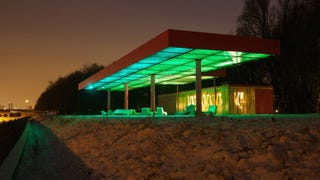 Gas stations aren't pretty, especially the stark, utilitarian ones that sit just off the highway with their filthy bathrooms and broken vending machines. But a handful of stops along an Amsterdam roadway got a glowing renovation. Literally.
Initially, the pair of 1980's gas stations were set to be demolished in order to merge three existing parks. Instead, Sophie Valla Architects was given the chance to turn them into fantastic glowing light installations that double a meeting spaces conveniently situated were there's road access to the area.
The long-defunct gas pumps were replaced with a handful of comfy reclining outdoor chairs, and the plain, boring roof above them was outfitted with dynamic light fixtures that shift and change to reflect the ever-changing Dutch sky. And that's to say nothing of the fabric lined buildings, now clothed in curtains sporting geometric designs and backlit by a warm, emanating glow.
It's a nice second life for a gas station to have, and a promising use of increasingly outdated infrastructure that will only become more and more common as time goes on. It might be a little bit of a stretch to make a nice hangout spot out of that dilapidated Exxon in the ghetto, but there are plenty of hopefully-soon-to-be-useless filling stations that could make for awesome gleaming rest stops along our own roadways in the decades to come. But hopefully they won't get rid of the hot chocolate machines. [Sophie Valla Architects via Designboom via Co.Design]