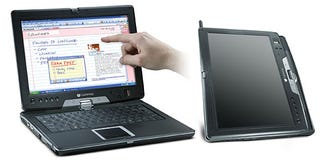 Here's Gateway's E155C, called a thin and light convertible. Thin? Yeah, it's 1.17 inches thick. Light? Well, 4.5 pounds is not something you'd be comfortable dropping on your foot, but it's a lot lighter than this anvil we've been carrying around the past few days.
Convertible? You can use its 12.1-inch 1280x800 widescreen as a touchscreen tablet, using a digital pen/eraser or finger on the screen that twists around so that it lies flat against the keyboard. Or, it also functions as a normal notebook screen, and that 12.1-inch size is perfect for cramped airplane seats.
Check out the all-angles gallery below, and more spec and price info on the following page.

Just released today, this is an up-to-date device with an Intel Core 2 Duo U7500 ultra-low-voltage processor, and the company says a step up to the Core 2 Duo U7600 will be available after launch. Our only problems with it are its plain, pedestrian looks (but it does look better as a tablet than as a notebook) and its $1849.99 price, a bit overboard for a notebook these days.
Product Page [Gateway]