One of the downsides of being a worldwide tech juggernaut with two billion monthly users is that day-to-day business means playing legal whack-a-mole at all times. For Facebook, one legal problem has ended and another has just begun.
Late on Friday, a judge in San Jose, California ruled that Facebook was not guilty of privacy violations with its practice of tracking users activity on websites that have a Facebook "like" button. It's the end of a legal battle that has raged in one form or another for five and a half years. But Bloomberg reports today that a bigger fight is looming in Europe. Germany's Federal Cartel Office (FCO) is looking into whether or not Facebook's popularity essentially means that it is giving users no choice but to agree to its terms and conditions.
It's a unique legal approach that could redefine how antitrust regulations in Europe are handled. The European Commission's competition authority has focused its efforts on enforcing a balance between organizations' economic power. If Germany's FCO decides to move forward with its case, privacy considerations would become a factor in considering anti-competitive practices.
For Facebook, ads are the source of its $27 billion in revenue. Sucking up as much data as possible on users is essential for it to precisely target those ads. The FCO is considering an argument that because Facebook is so pervasive, it doesn't have a right to log certain private data. "Whoever doesn't agree to the data use, gets locked out of the social network community," Frederik Wiemer, a lawyer at Heuking Kuehn Lueer Wojtek in Hamburg tells Bloomberg. "The fear of social isolation is exploited to get access to the complete surfing activities of users." From an antitrust perspective, that could, theoretically, mean that a competitor is placed at a disadvantage because Facebook can ask for invasive permissions that the public wouldn't agree to if not for the fear of being left out of the modern world. More data equals more power—with a huge headstart, company's like Facebook could have a permanent seat at the head of the table.
G/O Media may get a commission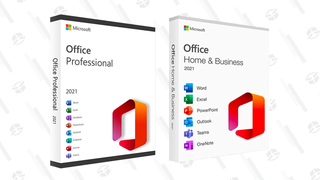 89% off
Microsoft Office Professional 2021 Lifetime License
Germany is well known for its strict protections of privacy. And while American regulators tend to be more laissez-faire about privacy, the Supreme Court did recently recognize how essential social media is to modern life. In a unanimous decision, the court ruled that a North Carolina law that barred sex offenders from using social media restricts free speech. The decision said that "access to what for many are the principal sources for knowing current events, checking ads for employment, speaking and listening in the modern public square, and otherwise exploring the vast realms of human thought and knowledge."
The FCO probe began in March and under the terms of the investigation, it wouldn't be able to levy a fine against Facebook. Considering that Europe hit Google with a jaw-dropping $2.7 billion fine in an antitrust case last week, that fact might make Facebook executives breathe a sigh of relief.
But when you're an international company raking in billions every quarter, the greater problem can be the imposition of changes to your business model. Germany is also threatening stiff fines against social media companies that don't delete hate speech. That means more hires and more effort put into monitoring. Last week, a Canadian court ruled that Google has to remove search results involving a court case against Datalink across the globe. Google attempted to only remove the results in Canada. Similar cases in other countries could create an enormous logistical problem. "The internet has no borders - its natural habitat is global," the Canadian Supreme court wrote in its decision. On the flip side of that argument, a global company has to impose changes to its system globally because one nation said it does.
When it comes to the FCO probe, some legal experts are saying it's a mistake to go after Facebook from an antitrust perspective. Daniel Wiedmann, an antitrust attorney at P+P Poellath + Partners, in Frankfurt tells Bloomberg, "It may be difficult to show that Facebook is really misusing its market position." A better option may be to wait until next year when more strict data privacy rules take effect in the EU.
What's clear is that tech companies dealing with big data are only going to have more problems trying to balance global regulations.