Sick of Heroes' soap opera and lack of depth? The network behind The Shield and Nip/Tuck is coming to save you, with a new series based on Brian Bendis and Mike Oeming's comic book Powers.
Mixing police procedural with superheroes, Powers manages to explore the traditions (and cliches) of comic book superheroes in a way that Heroes has never quite accomplished (instead, the NBC drama mostly chooses to imitate them. Especially if they're old X-Men comics), and just may be the superpowered TV show you've always waited for.
Created in 2000 by Ultimate Spider-Man and Avengers writer Bendis - In fact, it was his first superhero comic - and Bulletproof Monk's Oeming, Powers follows two detectives in a police department that investigates homicides that are connected to superhumans... one of whom used to be a superhero himself. Mixing a variety of influences from both inside and outside comics — amongst them Homicide: A Year On The Killing Streets, the novel that the TV series Homicide: Life On The Streets was based on — has allowed the series to stay fresh while changing subjects, scope and even publishers throughout its long history.
This isn't the series' first run-in with moving pictures; before news of the FX deal broke this weekend, the comic had been optioned by Sony Pictures as a potential movie for director Frank Oz, but things didn't exactly work out, as Bendis told MTV's Splash Page:
We had to sit through waves of screenplays that were just inappropriate for the product, and for fans of the book. There were whole drafts of the screenplay without [one of the series' two leads] Deena Pilgrim in them. They'd hand me the screenplay and go, "What's wrong with this?" and I'd go "He has no one to talk to!
G/O Media may get a commission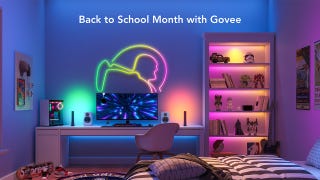 Back to School
Back to School Month with Govee Sale
This time around, that won't be a problem; Bendis himself is writing the script for the FX pilot:
I just handed in a draft to the network and we're getting our notes from the network as soon as [New York Comic Con] is over. So next week I'll get the notes, and as long as they don't involve sock puppets and some sort of orgy scene that I'm not interested in, then hopefully it will go in the right direction.
We're hopeful that there aren't any sock puppet notes because, handled correctly, Powers could be exactly what we wanted from Heroes all along, before we learned to settle for fast-moving schlock: A smart, funny, suspenseful drama that just happens to feature people able to do amazing things. Keep your fingers crossed.
NYCC: Brian Bendis Confirms Live-Action 'Powers' TV Series On FX, Draft Completed [MTV Splash Page]