The holidays aren't just about getting stuff; they're also about lending a hand to worthy causes. If you've got a lover of science, science fiction, or both on your list, consider making a donation to or buying a membership for one of these organizations. You can even buy merchandise from them.
Donations to 501(c)(3) organizations are tax-deductible in the US, and in some cases, memberships may be tax-deductible as well. And if you support an organization by purchasing an item from their store, you can at least feel warm and fuzzy about where the proceeds went.
Know another nonprofit organization that could use a little love? Please let us know about it in the comments.
Gifts for Science and Technology Lovers
The American Association for the Advancement of Science: Help the advance of science by supporting the world's largest scientific society. AAAS strengthens the ties of the scientific community, advocates for science funding, promotes and defends the integrity of science, and publishes the journal Science. You can support the AAAS with a donation or a membership for students, teachers, and non-educator professionals.
G/O Media may get a commission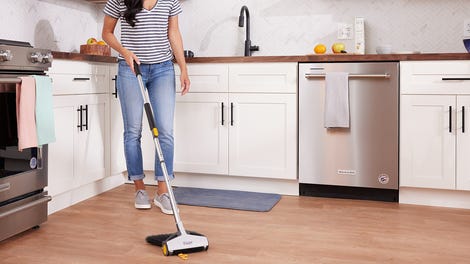 BOGO 50% Off
Flippr - BOGO 50% Off
The Planetary Society: This nonprofit organization was founded by Carl Sagan, Bruce Murray, and Louis Freidman to champion space exploration and the search for extraterrestrial life. Today, the society's executive director is none other than Bill Nye and sponsors projects that scan the skies for dangerous asteroids, hunt for Earth-like planets, search for extraterrestrial life, and develop a solar sail spacecraft. At the same time, it advocates for much-needed science funding. You can gift a membership, which includes four issues of the society's quarterly magazine.
The Electronic Frontier Foundation: Issues like online privacy and net neutrality are more important than ever, and the EFF is fighting for our digital rights. You can make a donation to the EFF, gift a membership, or purchase something from their online store.
Experiment: If your giftee has a particular area of science they'd like to see advanced, browse the projects on Experiment. This crowdfunding site lets you back actual scientific research that might otherwise go unfunded in a wide range of categories.
Doctors Without Borders: Make sure that the people who need it most can access medical aid. Donate to help humanitarian medical workers get aid to people in areas of conflict, epidemics, and disasters, and those who are otherwise excluded from health care.
The Keck Observatory: Promote our understanding of the cosmos by supporting one of the largest astronomical telescopes currently in use. You can help keep it pointing toward the skies with a donation.
Public Library of Science: Support the Open Access movement by donating to PLOS, which maintains a library of open access journals and scientific literature. In an era where so many academic publications are kept behind hefty paywalls, PLOS is committed to making scientific literature accessible to the public.
This is also a great time of year to support local science museums, including museums of natural history. If your loved one has a favorite museum, maybe gift them with a membership. Give them the gift of science while helping to keep these valuable resources alive.
Gifts for Fans of Scifi, Fantasy, and Comics
The Hero Initiative: Comic book creators have made invaluable contributions to our culture, but many deal with financial issues, sometimes stemming from illness, injury, and other emergencies. The Hero Initiative provides a safety net for creators and gives us an opportunity to give back to the people who have provided us with so much enjoyment.
Worldbuilders: If you're a fan of science fiction and also a fan of Heifer International, check out this organization founded by author Patrick Rothfuss. You can make a donation to Heifer International and enter a lottery for great swag, or you can buy something from the Tinker's Pack store, with all proceeds going to Heifer International. The items include signed books, t-shirts, jewelry, posters, and this calendar by Karen Hallion:
The Comic Book Legal Defense Fund: Protect comic book creators' First Amendment rights and promote education about First Amendment issues by supporting CBLDF. You can donate, buy a membership, or grab something from their shop.
Creative Commons: Make it easy for creators to license their work for free online by supporting Creatives Commons. They accept donations and sell CC merchandise. Help keep their licenses free.
Strange Horizons: This non-profit literary magazine is supported entirely by fans. All the speculative fiction content is available for free and the magazine pays contributors professional rates. And while the magazine attracts some big names, it also publishes writers and artists who have never had a professional publication before. You can donate to help keep this great thing going.
The Harry Potter Alliance: This fandom nonprofit is devoted to engaging people in social activism through storytelling. They gather fans together to raise money, donate books, and advocate against child labor. You can support them through donations or by snagging something from their shop.
The Carl Brandon Society: This organization, named after a fictional black science fiction writer, aims to increase diversity in the production and audience of speculative fiction. You can donate to or become a member of the society itself, or you can donate specifically to the Octavia E. Butler Memorial Scholarship, which helps sends writers of color to the Clarion writing workshops. You can also donate to Clarion directly to help growing speculative fiction writers attend the workshops through scholarships.
The Gunn Center for the Study of Science Fiction: While this organization, which hosts the Campbell Conference every year (where the John W. Campbell and Theodore Sturgeon awards are given), promotes the study of science fiction as an academic subject, and hosts various workshops, gets a bit of support from the University of Kansas, much of their work relies on donations. One of their current missions is to endow a full-time professor of science fiction for the university.
Also, if your gift recipient's favorite creator—be it a podcaster, animator, comedian, cartoonist, or science educator—has a Patreon, that's a great way to support independent creators—and potentially get some neat digital or physical presents for your giftee.
Gifts to Help Kids Learn And Have Fun
826 National: With chapters in New York, Boston, Chicago, DC, Ann Arbor, Los Angeles, and San Francisco, 826 provides writing classes and tutoring to under-resourced students, giving them an opportunity to explore their creativity. You can donate and also peruse the quirky items in their store. And if there's one near you, I recommend checking it out; each chapter has a store with a fun theme—pirate, monsters, superheroes, time travel, and more.
The National Center for Science Education: Make sure that scientifically accurate evolutionary science and climate change science stays in the classroom by supporting this organization, which defends science in the classroom and advocates to keep creationism out of public schools. Your donation helps fight the good science fight.
Child's Play: When kids are hospitalized and can't get out an play physically, this game industry charity lets them keep playing with donations of games, books, and toys. Games allow kids to interact with other people, and helps distract them during what can be a physically and mentally trying time. If you want to help a sick kid get something off their wishlist, become a donor.
Donors Choose: What do teachers really need? At Donors Choose, they tell you. You can help fund classroom science projects, fulfill book wishlists, or chip in for a project you find particularly creative.