Don't let the name of this gift guide put you off—I haven't chosen 100 variations on the humble vacuum cleaner. Instead, there's seven smart, useful and stylish presents for the cat-lovers amongst us. Don't hide—I can see you.
1. Dyson's DC23 Animal, $500: Granted, being gifted a vacuum cleaner is not the most thrilling unwrapping experience. But a shiny new Dyson DC23, made especially for picking up cat (and dog) hair? It'll revolutionize their home. Brits with longhaired docile could try the £40 Groom tool too, which actually sucks up hair straight from the animal's back. It's intended for dogs, but if the cat's docile enough... [Dyson]

G/O Media may get a commission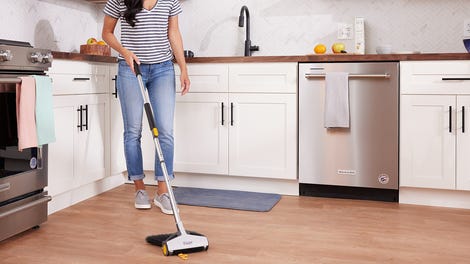 BOGO 50% Off
Flippr - BOGO 50% Off
2. LOLMagnetz, $20: Thought you could get through reading something about cats on a tech site, and not see the word "lolcat" once? Shame you on. Your punishment is, of course, to buy some of these lolcat fridge magnets. I have a set which keeps me most entertained whilst cooking. [ThinkGeek]

3. Pet's Eye View Camera, $20: The perfect way to follow the puss' mischief all day long. This camera clips to the collar and takes photos of what they can see every 1, 5 or 15 minutes in VGA format. Just don't blame the manufacturer if the cat's owner sees something unsavory... [Hasbro and Amazon]

4. Grow Your Own CatNip, $8: This is a double-present, right here. Not only will the cat love the catnip, but the owner will get so much enjoyment out of watching their kitty roll around around in hysterics that they'll probably turn to crack themselves. [ThinkGeek]

5. Alessi Minou hook, $24: Designed to hold purses on the edge of tables or bars, this hook would actually look nice in the home holding a set of keys, or a utensil in the kitchen. Perfectly understated, just like cats themselves. [Incubot]

6. Cat PlayHouse, £15 / $23: Has your giftee built flat-packed IKEA furniture before? Good. That means s/he'll have no trouble whatsoever knocking together this cardboard cubbyhouse for kittehs, which comes in the form of planes, tanks, fire engines or cars. [SuckUK]

7. FroliCat Dart, £30, $30: Is your feline-loving friend lazy? His/Her cats moping around the house, looking all bored and lethargic? A laser-based toy may be the answer, and with 16 different laser patterns it's clever enough to outfox any cat. [Firebox, Petco]

The burning sensation that comes from holiday shopping isn't from rubbing against the unwashed masses at malls: It's trying to pick out presents for everybody on your list. Gizmodo's daily gift guides are the all-natural, non-smelly cure.