Valentine's Day is but a few days away—and if you're anything like us, you probably haven't even begun to think about buying a present for your loved (or lusted after) one. Here's help.
But it's okay—Gizmodo and Fleshbot are here for you, with a list of sexy gadgets sure to please each and every geek girl (and boy) out there. Cause remember: nothing says, "I love you" quite like a gadget (especially one that gives orgasms).
For the Apple fanatic: Lelo Gigi: True, Lelo's Stockholm headquarters are about 5390 miles from Cupertino, but from the looks of the Gigi, you'd never know it. With its sleek white handle and pretty colored shaft, it could easily pass for Steve Jobs's long lost offspring. It even has a click wheel!
G/O Media may get a commission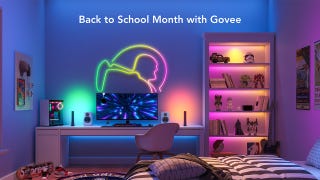 Back to School
Back to School Month with Govee Sale
For the phone lover: BodiTalk Escort: The iPhone app store may have cracked down on "adult" apps—but that doesn't mean you can't use your phone to get your rocks off. The BodiTalk Escort kicks into gear whenever a nearby cell phone is in use. Finally, you'll be able to live out those dreams of an iPhone menage a trois.
For the girl with too many cables: Lelo Mia: With all the chargers and cables in our lives, the last thing anyone needs is yet another gift with yet another easily lost power cord—which makes the USB-powered Mia so very, very refreshing. This little lipstick vibe needs nothing more than a computer to get its charge back—and with its discreet appearance, you should have no trouble charging it anywhere you go. (Just, uh, remember to wash it after using it.)
For the couple that geeks together: WeVibe: Valentine's Day isn't just about presents, presents, and more presents—it's about celebrating the deeply felt love that you and your partner share. And what better way to celebrate that love than with a gadget you can use together? The WeVibe is a flexible, C-shaped, silicone vibe that's worn by the lady during the sex, made to add a little extra bump to your bump and grind.
For the boys: Bo and Real Touch (see it in action here>: Sexy gadgets aren't just for girls—after years of giving all the good sex tech to the ladies, companies are finally starting to take notice of the other half of the population. We've got two good picks for boys. First up is thethe Bo, a cock gentleman's ring that—with its sleek silicone body and rechargeable motor—leaves those gummy rings with bullet vibes trailing in the dust. Secondly, there's the Real Touch, a robotic vagina that syncs with your favorite porn clips. It won't actually be on sale until later this month—but this is one IOU you can probably get away with.
For the porn loving lovers: FyreTV: If your idea of a romantic evening is watching other people getting it on, than look no further than FyreTV this Valentine's season. The discreet, Wi-Fi enabled box provides streams porn directly to your bedroom. And since their database of adult entertainment is constantly being updated, its definitely a gift that keeps on giving.
For the girl who has every (sex) gadget: Sasi: A few years ago, it seemed as though vibrator tech had pretty much reached its peak. Sure, you could make the batteries last longer, or switch up the pulse patterns, or find a funny new animal to stick on your toy—but for the most part, vibrator functionality was pretty much set. Vibrators were pieces of plastic that went inside the vagina or on top of the clitoris and vibrated. Maybe they twirled around a little, or had rotating pearls, but that was about the extent of their moving. Until the SaSi. With a revolutionary new method of stimulation, and programmable patterns, it's the best thing to happen to vibrators since, well, the birth of the vibrator.
When money is no object: Lelo Inez: We used to think that JimmyJane's $3250 Little Platinum Eternity was the height of luxury vibes—but that was before Lelo came out with Inez. The latest addition to the Lelo Luxe line, Inez will run you anywhere from $7900 (for stainless steel) to $10,500 (for gold plate). Money may not be able to buy you love—but giving someone a $10.5k vibrator will probably get you pretty far anyway.
Lux Alptraum is the editor of Fleshbot, the web's foremost blog about sex, porn, and the web, and founding editor of Boinkology, a blog about sex and culture. She's spoken to numerous audiences about healthy sexuality, sex culture, and the state of porn today, appearing at NYU, Columbia University, the Museum of Sex, SXSW, and Gelf Magazine's Non-Motivational Speaker Series. Her writing has appeared in Time Out New York, Zink! Magazine, Best Sex Writing 2008, and GOOD Magazine.