We took every review, ever, of Logitech's golden boy the MX Revolution and simmered them over low heat for 20 minutes. The rich gelatin was then poured into a centrifuge where its contents were analyzed and translated into stunning 3D graphics by the Gizmodo Super Computer. Results show the Logitech MX Revolution is a great mouse with more than a few notable features - though it's Microgear Precision Scroll Wheel steals the show.
Post jump: more pretty pictures and the Frankenreview (he can copy/paste better than any of us).
Frankenreviewer says:
"Overall, after using the new model, I am impressed."
"At the center of Logitech's extreme mouse makeover is the MicroGear Precision Scroll Wheel."
"I performed a simple experiment using a lengthy Word document: With a standard scroll wheel, it took me over 60 'scrolls'...With the Logitech mouse's freewheel, it took me just three spins."
"...sometimes moving your finger from it will make it jump another line or two, which can be irritating."
"Though the scroll wheel may not sound that impressive on text, I actually find myself now relying on it with large documents."
-It's clever that wheel sensitivity varies by program.
"The SetPoint software cannot be underestimated... it's a powerful tool. It gives complete control..."
"the button sensitivity could use some tweaking, and that is not a setting you can change in Logitech's SetPoint software."
"We were also a bit disappointed to see that the MX Revolution has no option to tweak the laser sensor's sensitivity on the fly."
-Why wouldn't Logitech allow an assignable button for laser adjustment to appeal to gamers?
"The One-Touch-Search button definitely felt like a luxury."
"...we never found that capability particularly useful."
"...you can't select any other search engine other than Yahoo or Google."
-We hope Logitech is banking from that decision - or else why make it at all?
"...while Logitech has created a very good product its not one that is going to blow you away.
"...deserves to be lumped into the same category as the Six Million Dollar Man or Bionic Woman."
"While all the features themselves are small, added up they do seem to make a difference."
-Ok.
G/O Media may get a commission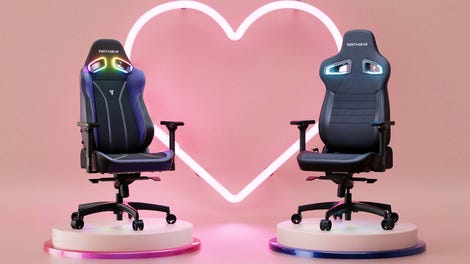 Up to $150 off
Vertagear Gaming Chairs
ExtremeTech
CNET
Techgage
MacWorld
Computeractive
Pocket-lint