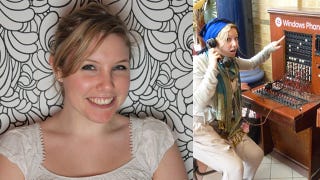 The Giz family just gained a surly, Cockney cousin: this fall, Gizmodo UK will kick off in full force, helmed by the incomparable Kat Hannaford. It'll be just like the Gizmodo you know and love, just with more crumpets. Welcome!
Gizmodo, perhaps the most (in)famous technology website in the world, is coming to the UK following a new partnership between Future Publishing and Gizmodo's publisher, Gawker Media.

Gizmodo UK will be a fully localised tech site, published by Future alongside its current UK market-leading portfolio, including T3, TechRadar and MacFormat.

Future Publishing is already the UK's biggest Technology Publisher, reaching millions of tech-hungry consumers each and every month in print, online and on the move.

Launching this autumn, Gizmodo UK will immediately and significantly increase Future's technology footprint to over four million monthly UK consumers – attracting a new and passionate UK audience to the world-famous site about gadgets and gadget culture.

The Gizmodo UK site will be edited by Kat Hannaford, previously a contributing editor for Gizmodo US and prior to that, a news editor at www.T3.com.

Gizmodo, with its informed yet irreverent take on tech news and rumour, perfectly complements T3's stylish, aspirational product showcase and TechRadar's authoritative and uncomplicated focus on reviews and group tests.

Nial Ferguson, Group Publishing Director of Future's Technology Division says: "We are very excited about bringing Gizmodo to the UK. It is a hugely influential brand and one that we are proud to have within our market-leading portfolio. Gizmodo UK allows us to speak to a completely new set of tech consumers and to offer our commercial partners even more exciting opportunities."

Gaby Darbyshire, COO of Gawker Media, says: "Future is the perfect partner to run Gizmodo in the UK. They are experts in all things tech and understand the unique voice of Gizmodo. We are delighted that Kat, an old Gizmodo hand, will be running the site and look forward to working with the Future team."

Mark Wood, CEO of Future UK, adds: "This partnership between Future and Gawker Media is another example of our commitment to delivering best in class, must-read content in the digital space. After becoming the first magazine publisher to be named by the Association of Online Publishers as Consumer Digital Publisher of the year early in the summer, this deal reaffirms our intention to continue accelerating digital growth within our business."

Future recently confirmed the launch of its 100th digital edition for iPad – with the launch of Official Xbox Magazine – establishing itself as one of the UK's most successful digital publishers on the iPad, as well as online. iPad sales revenues have been growing at more than 10% a month this year and have now gone past the £2m-a-year mark.

Gizmodo UK will be the 9th international edition of the site. Localised versions are also available in France, Germany, Italy, Spain, Poland, Japan, Australia, and Brazil. Other Gawker Media titles currently available internationally include Lifehacker, Kotaku and Jalopnik.