Stand down, fierce citizens. Google has fixed its beer emoji. The beer icons that were once half empty but confusingly topped with froth are now full. Oh and those un-American burger emoji with cheese on the bottom bun? The cheese is now on top.
The updated emoji are included in the forthcoming Android 8.1 release. Developers running a beta version of the operating system noticed the updated beers and burgers on Tuesday, sparking a bone-chilling flashback to last month's global controversy over the Android emoji. Outrage over the bungled burger bubbled up so hot and high that even Google CEO Sundar Pichai said the company would "drop everything" to fix the problem. The fix only took a few weeks, but the angry public will have to wait a little longer. Android 8.1, along with the new emoji, is expected to ship at the end of this year.
But let's get real. Nobody cares about the burger anymore. Cheese on the bottom is actually a sensible thing to do, especially when you're grilling burgers and don't want the cheese to melt too much on a hot slab of meat. The real injustice—the one not enough people are talking about—is the mutant beer that Google pushed onto unsuspecting Android users. Beer doesn't work like that. What kind of fascist serves up half-empty beers with an inexplicable dollop of foam on top? And is that even beer in that mug? Because it sure looks an awful lot like robot piss.
G/O Media may get a commission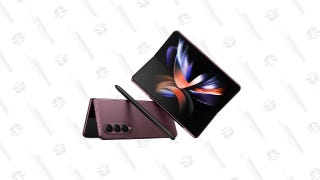 Save Up to $300
Galaxy Z Fold4
We may never know the truth behind this mysterious frothy vessel, but at least we now know how it ends.