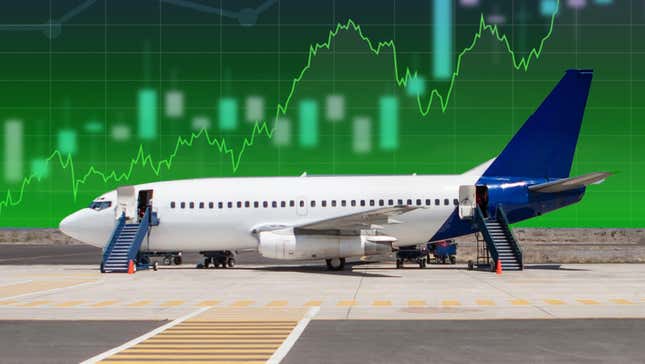 Google is taking a bold step in the world of online travel planning. The tech giant is piloting a price guarantee for airline bookings. Now, certain flights departing U.S. airports will come with a money-back promise. If a Google-guaranteed ticket price gets cheaper before the time of the flight, Google says it will step in to compensate for the difference.

Google's Antitrust Case Is the Best Thing That Ever Happened to AI
The feature was announced in a Monday blog post along with a couple of other new changes meant to enhance Google's travel tools. The new price endorsement, though, is by far the most interesting of the shifts. The move is seemingly intended to remove some of the consumer doubt from the equation of when/if/how to buy plane tickets, and to attract more users to Google's flight search platform. And in some ways, it seems like a genius plan. Plane tickets are infamous for their rapidly fluctuating prices that may even shift based on your individual browser activity. Any way to reassure consumers of their choice seems like a solid way to boost sales.
However, with a price guarantee, the tech giant is entering into murky waters where things have gone wrong for companies before. In not-too-distant history, MoviePass reached corporate notoriety for its mismanagement of a fixed-price ticketing promise that ultimately tanked the company and led to a federal investigation and lawsuit. Google clearly isn't taking on that level of risk, but could still theoretically find itself in the red.
Yet Google sees nothing but sunshine ahead for its flight search. "We're confident that in most cases, the flights we're guaranteeing won't get any cheaper before departure," a company spokesperson told Gizmodo via email, in response to a question about safeguards to prevent Google from losing money on the new feature. "Our hope is that people will trust Google Flights to help them find a great deal on their next booking, and the price guarantee could build that trust even further," the spokesperson added.
How Will Google's Flight Search Price Guarantee Work?
The company has launched a pilot version of the price guarantee feature for U.S. users searching for and purchasing tickets departing from U.S. airports. Tickets given the guarantee will have a little badge that shows up next to the listing in a flight search.
The badge indicates that Google is tracking the cost of that ticket, and believes it won't fall below the current displayed price before the plane in question takes off from the tarmac. "This prediction is based on our historical dataset of flight prices," the spokesperson said—offering few details on the underlying algorithms. If a user opts to buy a price-guaranteed ticket through Google and the flight cost does indeed fall, the company will pay the difference out to its customers. There are some additional restrictions on the feature, however.
Price differences must be greater than $5 in order to be compensable, according to a Google support page. Users can only receive up to $500 total back per year for up to three guaranteed bookings (so, trying to short Google's flight prices probably won't work out in your favor). The guarantee won't show up on any flights more than 60 days out, Google spokesperson's clarified, so it's really only for relatively last-minute planning.
Also, big caveat: If you're hoping to receive the full benefit of the guarantee, you have to be an adult Google Pay user with an activated account. Though, if you don't have one at time of booking and become eligible for reimbursement, the company spokesperson said Google will send you a reminder email to set a Pay account up. Further, you have to be signed into your Google Account at the time of booking, pay in USD, and be using a U.S. billing address and phone number.
A company spokesperson further told Gizmodo that flights will only be eligible for the price guarantee badge if they're offered by an airline participating in the "Book on Google" program. "Given these stipulations, you are most likely to see the guarantee offered on Alaska, Spirit, and Hawaiian Airlines flights," they added.
Notably, the guarantee does nothing to protect consumers from flight cancellations, flight changes, or extenuating circumstances requiring a trip cancellation. This is not a travel insurance policy, just a way for Google to encourage its users to feel more confident pulling the trigger on tickets.
What Other Travel Features are New in Google Search?
In addition to the price guarantee, Google has also added a new way to quickly scroll through hotel details on mobile. Photos of lodging are now organized in Instagram story-esque arrays of tap-through content.
Finally, attractions now include pricing info directly in Google Maps and Search listings. You can book your ticket to certain tours, museums, sites, and events directly through these platforms and find suggested, related experiences. Notably, these Google-displayed prices don't come with any sort of guarantee (yet).

Update 4/3/2023 7:40 P.M. ET: This post has been updated with additional details from a Google spokesperson on Google Pay and price guarantee reimbursement.