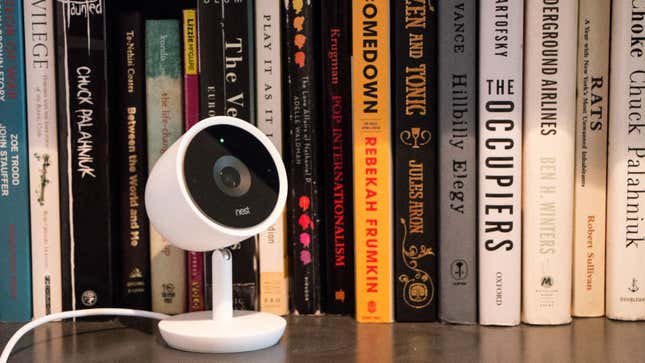 Google is bringing Nest back into the fold. Nest, known for it's slick thermostats and user-friendly security cameras, was acquired by Alphabet (then called Google) for $3.2 billion in 2014. Since then the company has grown, according to Geekwire it has more than quadrupled its staff, and it's rolled out a wide range of products, including cameras, an alarm system, and a smart doorbell. Now the company, which Nest CEO Marwan Fawaz claims has shipped over 11 million devices to date, is being brought back into Google, and that means Google is about to get a lot more intimate with your home.

Apple's Vision Pro Seems Powerful, But Who Is It For? | Future Tech
Google, like a very persistent animal in winter, wants inside your house. The reason products like Android TV and Google Home exist is because Google wants to be there, absorbing your banal chats about your favorite car and that new bone broth your coworker's been drinking.
That's why many raised their eyebrows when Google announced it was acquiring Nest to begin with. At the time, Nest founder and Chief Product Officer Matt Rogers wrote in an FAQ that Nest's privacy policy "clearly limits the use of customer information to providing and improving Nest's products and services."
Since then we've grown much more comfortable with Google chilling out beside us on the couch, to the point that in a 40 minute interview with Fawaz, CNET apparently never talked about security concerns once. Instead the conversation was focused on more practical things—like whether Nest devices will continue to work with Amazon products (they will) and how the new arrangement will help Nest products. Fawaz told CNET that Nest has used Google's AI know-how in the past and that "being part of the Google family, we get closer to that."
This is exciting news if you're really into a full, Google-bred smart home ecosystem, but it's also a little terrifying! In one grand leap Google is going from just having microphones all over your house to making the cameras that can live inside and outside your home. That sense of surveillance will no doubt be further aided by other products, like the Smart Displays with built-in webcams being made by Lenovo, Sony, LG, and JBL.
Regardless of the privacy concerns, this is a very big deal for Google, which is trying to get more serious about its hardware game. I've been unimpressed with the attempts thus far, but this latest news shows some real commitment to a broader and well defined Google hardware environment.
We've reached out to Google for comment about the privacy concerns and will update if we hear back.
[CNET]