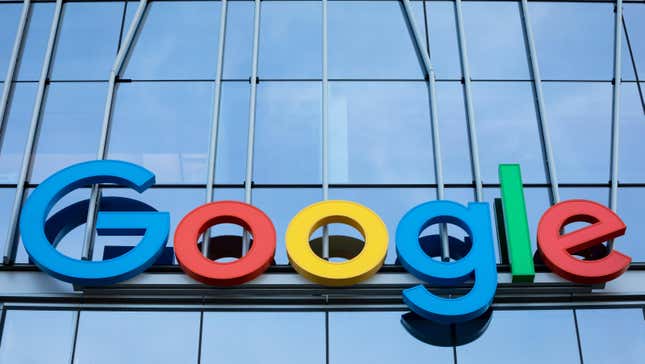 Waste is sort of the thesis statement of modern economics, and big tech is no different. Google recently published its 2023 Environmental Report which sheds some light on its water consumption—and a more aggressive foray into artificial intelligence could make it worse.

Why is Everyone Suing AI Companies? | Future Tech
The company revealed in the report, published on Monday, that its data centers and offices consumed a combined 5.6 billion gallons of water in 2022, typically to cool facilities. That's an amount equivalent to irrigating an average of 37 golf courses according to a 2012 estimate from the U.S. Golf Association, which Google cites. As Insider notes, that's a 20% increase from the 4.3 billion gallons of water that Google says it consumed in 2021. Shaolei Ren, associate professor of electrical and computer engineering at the University of California Riverside, told the outlet that a 20% increase is approximately on par with an increase in Google's computing power—which has been driven by a push toward AI.
Following the release of OpenAI's ChatGPT in November 2022, big tech felt the pressure of the AI juggernaut and began to hightail development on bringing their own artificial intelligence chatbots to market. Google revealed an AI chatbot named LaMDA—short for Language Model for Dialogue Applications—back in August 2022. Google opened LaMDA through its AI Test Kitchen app and only allowed the public to interact with it via a set of structured scenarios, allowing Google to slowly roll back guardrails as testing continued.
AI is famously energy-intensive and requires a ton of water in order to cool the data centers and server farms that act as the program's brain. Researchers at the University of California Riverside (including Ren) and the University of Texas Arlington recently found that training ChatGPT-3 alone required roughly 185,000 gallons of water—that's enough water to fill a nuclear reactor's cooling tower. The researchers also found that an average conversation with ChatGPT amounts to dumping out a bottle of water on the floor. As LaMDA began to see a wider audience throughout 2022, it's likely that Google needed more water to cool its servers.
"[The increase in water consumption] was due to business growth, and aligns with other activity-based data," Google spokesperson Chrissy Lee told Gizmodo in an email. "We're working to address the impact of our water consumption through our climate-conscious data center cooling approach and water stewardship strategy, including our 120% replenishment target."
While the company claims in its report that it takes local water stress into account, and aims to use non-potable water whenever possible, the company's focus on AI could very well make the situation only worse in the coming years. Google released its own chatbot, Bard, in March 2023 in an even more aggressive bid to edge out OpenAI. Bard is full steam ahead, with CEO Sundar Pichai telling employees to spend two to four hours per day working out the AI's kinks while the company tweaked language in its privacy policy to claim that the entire internet is fair game for training.
Update July 25, 10:15 am EST: This article was updated to include a quote from a Google spokesperson.