The biggest secret on the internet is that most of the world still doesn't have access to it. But while a year after launch there's still the possibility Google's Project Loon balloons may fall on you, it looks like they could actually be the most viable way to enable the 61 percent of humans without a Facebook account to find their way online.
Since its launch last June Project Loon has seen steady improvements under Google's guidance, to the point where the speeds it currently provides to remote areas in New Zealand and Brazil may be faster than your home internet. Speaking to Wired, Google X director Astro Teller expounded on the rapid development of Project Loon:
"This is the poster child for Google X," says Astro Teller, who heads the division. "The balloons are delivering 10x more bandwidth, 10x steer-ability, and are staying up 10x as long. That's the kind of progress that can only happen a few more times until we're in a problematically good place." A year ago, balloons typically remained aloft for a few days at most, and download speeds averaged one or two megabits per second—comparable to the slowest wired Internet service.
Now with the ability to send data over LTE, the Project Loon balloons can provide download speeds of 22Mbps to a ground antenna, and 5Mbps directly to a mobile device. Teller is hopeful that by next year Project Loon will be able to provide service to at least some section of the public with a permanent set of balloons.
Project Loon isn't the only horse in the race to build out a global internet service, and not even the only horse owned by Google. In the last six months, Google has acquired Titan Aerospace, a company that builds drones, and is spending between $1 billion and $3 billion to build and launch 180 satellites that would provide Internet access to unreached areas, according to The Wall Street Journal.
G/O Media may get a commission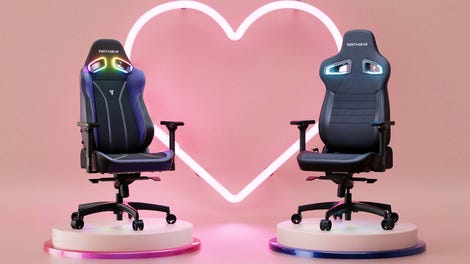 Up to $150 off
Vertagear Gaming Chairs
Why is Google spending so much money to bring the world online? More people to show ads to, and more data to parse through, but mainly because Facebook is doing the same thing. At least this time a race between multibillion dollar corporations will only help by getting the entire world connected much faster than expected.
Update: Google confirmed the download speeds to us and said it is still testing Project Loon, and it will be "some time before this is a full service available for people on a continuous basis."