George R.R. Martin is a master craftsman, whose A Song of Ice and Fire series was a legend even before HBO turned it into a massive hit TV series. His strengths include astounding world-building and an ability to get inside the heads of a wide variety of viewpoint characters, one at a time. How does he do it? And what can you learn from him?
We pored over all of Martin's interviews and online writings, to distill some of his most fascinating thoughts on writing.
Images via Marc Simonetti/Song of Ice and Fire Calendar 2013.
And you should also read Lisa Tuttle's long account of what it's like to collaborate with Martin on a story, which wound up becoming a novel. And Martin's Guest of Honor speech from Ambercon 1981, where he talks about growing up as a bored kid whose only escape was through books.
G/O Media may get a commission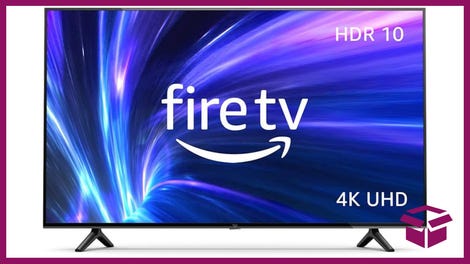 42% Off
Amazon Fire TV 50" 4K Smart TV
Why he writes one view point character at a time:
I'm a strong believer in telling stories through a limited but very tight third person point of view. I have used other techniques during my career, like the first person or the omniscient view point, but I actually hate the omniscient viewpoint. None of us have an omniscient viewpoint; we are alone in the universe. We hear what we can hear… we are very limited. If a plane crashes behind you I would see it but you wouldn't. That's the way we perceive the world and I want to put my readers in the head of my characters.
I don't like the strictly objective viewpoint [in which all of the characters' actions are described in the third person, but we never hear what any of them are thinking.] Which is much more of a cinematic technique. Something written in third person objective is what the camera sees. Because unless you're doing a voiceover, which is tremendously clumsy, you can't hear the ideas of characters. For that, we depend on subtle clues that the directors put in and that the actors supply. I can actually write, "'Yes you can trust me,' he lied." [But it's better to get inside the characters' heads.]
— Chicon panel, via Maureen Ryan/Huffington Post podcast.
On writing many different viewpoint characters:
In order to get inside their skin, I have to identify with them. That includes even the ones who are complete bastards, nasty, twisted, deeply flawed human beings with serious psychological problems. Even them. When I get inside their skin and look out through their eyes, I have to feel a certain - if not sympathy, certainly empathy for them. I have to try to perceive the world as they do, and that creates a certain amount of affection.
Empire Online, 2011
On tapping into your own life experiences:
In creative writing classes in college, the professors will say, 'Write what you know.' And that's often misinterpreted to mean you should write a thinly veiled autobiography. [Like] a graduate student in English Literature at University, writing a story in which the hero is a graduate student in English Literature at University. It would seem to, on the surface, disallow science fiction and fantasy and so forth, since none of us are actually barbarians or knights or lords or even peasants. But I think you have to interpret 'Write what you know' much more broadly than that. We're talking about emotional truth here. We're talking about reaching inside here to make your characters real. If you're going to write about a character witnessing a loved one die, you have to dig into yourself, and say, "Did you ever remember losing a loved one?" Even if it's only a dog that you loved as a child or something. Tap that vein of emotional energy. In some ways, it's not terribly different from what method actors do.... We observe other people from the outside. The only person we ever really know inside and out is ourselves, and we have to reach into ourselves to find the power that makes great fiction real.
— Interview with Peter Orullian, October 2011
On switching between characters:
I don't write the chapters in the order that you read them. I do switch. I'll get in a Tyrion groove, where I'll write four or five Tyrion chapters, and I hit a stopping point or something like that. Or I'll realize that I'm way ahead on Tyrion, and I gotta catch up with the other characters. And I'll go back and switch to Arya or Sansa or something like that. It's always difficult switching gears, because the characters have very different voices and very different ways of thinking about the world. I'll be writing up a storm and doing pages every day, and the minute I switch to a different character, that first day it's like, "Oh, God, I have to read all these characters again. I have Sansa sounding like Tyrion, and that's not good." I have to read more of her chapters and immerse myself in Sansa.
On the two types of writers:
I've always said there are – to oversimplify it – two kinds of writers. There are architects and gardeners. The architects do blueprints before they drive the first nail, they design the entire house, where the pipes are running, and how many rooms there are going to be, how high the roof will be. But the gardeners just dig a hole and plant the seed and see what comes up. I think all writers are partly architects and partly gardeners, but they tend to one side or another, and I am definitely more of a gardener. In my Hollywood years when everything does work on outlines, I had to put on my architect's clothes and pretend to be an architect. But my natural inclinations, the way I work, is to give my characters the head and to follow them.
Sydney Morning Herald, August 1, 2011.
I hate outlines. I have a broad sense of where the story is going; I know the end, I know the end of the principal characters, and I know the major turning points and events from the books, the climaxes for each book, but I don't necessarily know each twist and turn along the way. That's something I discover in the course of writing and that's what makes writing enjoyable. I think if I outlined comprehensively and stuck to the outline the actual writing would be boring.
His writing schedule:
I get up every day and work in the morning. I have my coffee and get to work. On good days I look up and it's dark outside and the whole day has gone by and I don't know where it's gone. But there's bad days, too. Where I struggle and sweat and a half hour creeps by and I've written three words. And half a day creeps by and I've written a sentence and a half and then I quit for the day and play computer games. You know, sometimes you eat the bear and sometimes the bear eats you. [Laughs]
— Interview in January Magazine, 2001
On writing about sex:
Life is very full of sex, or should be. As much as I admire Tolkien — and I do, he was a giant of fantasy and a giant of literature, and I think he wrote a great book that will be read for many years — you do have to wonder where all those Hobbits came from, since you can't imagine Hobbits having sex, can you? Well, sex is an important part of who we are. It drives us, it motivates us, it makes us do sometimes very noble things and it makes us do sometimes incredibly stupid things. Leave it out, and you've got an incomplete world.
— TV interview with Grace Dent
On writing battle scenes:
From where I sit, battles are hard. I've written my share. Sometimes I employ the private's viewpoint, very up close and personal, dropping the reader right into the middle of the carnage. That's vivid and visceral, but of necessity chaotic, and it is easy to lose all sense of the battle as a whole. Sometimes I go with the general's point of view instead, looking down from on high, seeing lines and flanks and reserves. That gives a great sense of the tactics, of how the battle is won or lost, but can easily slide into abstraction.
— Conversation with Bernard Cromwell on Martin's website.
On tightening a finished novel:
[After A Dance With Dragons was completed] I did my sweat. That's a technique I learned in Hollywood, where my scripts were always too long. "This is too long," the studio would say. "Trim it by eight pages." But I hated to lose any good stuff — scenes, dialogue exchanges, bits of action — so instead I would go through the script trimming and tightening line by line and word by word, cutting out the fat and leaving the muscle. I found the process so valuable that I've done the same with all my books since leaving LA. It's the last stage of the process. Finish the book, then go through it, cutting, cutting, cutting. It produces a tighter, stronger text, I feel. In the case of A DANCE WITH DRAGONS, my sweat — most of it performed after we announced the book's publication date but before I delivered the final chapters — brought the page count down almost eighty pages all by itself.
— Martin's blog, May 2011
On inventing languages:
A few years ago, I got a very nice email from a reader who wanted to know more about the vocabulary and syntax of High Valyrian. I blush to admit that I had to reply, "Uh... well... all I know about High Valyrian is the seven words I've made up to date. When I need an eighth, I'll make that up too... but I don't have a whole imaginary language in my desk here, the way Tolkien did."

The same was true of Dothraki. Lots of characters speak the language of the horselords in my novels, and I did pepper the text with a few Dothraki words like khal and arakh... but for the most part I was content just to say, "They were speaking Dothraki," and give the sense of what was said, playing with the syntax and sentence rhythms a bit to convey a flavor.
— Martin's blog, April 12, 2010
Basic advice to new writers:
The most important thing for any aspiring writer, I think, is to read! And not just the sort of thing you're trying to write, be that fantasy, SF, comic books, whatever. You need to read everything. Read fiction, non-fiction, magazines, newspapers. Read history, historical fiction, biography. Read mystery novels, fantasy, SF, horror, mainstream, literary classics, erotica, adventure, satire. Every writer has something to teach you, for good or ill. (And yes, you can learn from bad books as well as good ones — what not to do)

And write. Write every day, even if it is only a page or two. The more you write, the better you'll get. But don't write in my universe, or Tolkien's, or the Marvel universe, or the Star Trek universe, or any other borrowed background. Every writer needs to learn to create his own characters, worlds, and settings. Using someone else's world is the lazy way out. If you don't exercise those "literary muscles," you'll never develop them.

Given the realities of today's market in science fiction and fantasy, I would also suggest that any aspiring writer begin with short stories. These days, I meet far too many young writers who try to start off with a novel right off, or a trilogy, or even a nine-book series. That's like starting in at rock climbing by tackling Mt. Everest.
— from the FAQ on his website.
On the nature of fiction and happy endings:
All fiction, if it's successful, is going to appeal to the emotions. Emotion is really what fiction is all about. That's not to say fiction can't be thoughtful, or present some interesting or provocative ideas to make us think. But if you want to present an intellectual argument, nonfiction is a better tool. You can drive a nail with a shoe but a hammer is a better tool for that. But fiction is about emotional resonance, about making us feel things on a primal and visceral level.

These are some complicated ideas we're touching on now. I hate to make sweeping statements about fiction in general. Every writer does his own thing. But my own view of the world… I don't think I'm a misanthrope, or gloomy. I think love and friendship are very important parts of what make life worth living. There is room for happiness. But that having been said, there are some basic truths. One of them is that death waits for all of us at the end. Whether it's the Middle Ages or today, sooner or later we are all going to be ashes to ashes, and dust to dust. I think that colours things. Any happy ending where everything is resolved, and everything is jolly, maybe rings false because of what is coming for us.

Another thing that is maybe not so big a part of Ice and Fire, but certainly a huge part of my early work, is the existential loneliness that we all suffer. While we interact with other human beings, we can never really know them. I think these things, that we feel on some deep instinctual level, make us feel the resonances in fiction. Historically, tragedy has always had more respect than comedy. I have a great deal of respect for comedy, and I like to do the occasional funny scene, but it doesn't get respect. Even Shakespeare we teach as tragedy. We enjoyed his comedies, but if you ask what are the greatest Shakespeare plays, people are going to talk about Hamlet and Macbeth. They're not going to talk about Midsummer Night's Dream or As You Like It. What does that tell us?
— Sydney Morning Herald, August 1, 2011.