Vizio, the champ of inexpensive, pretty damn good TVs, is making the (inevitable) foray into Tabletania. Their snazzily named Vizio Tablet jibes with the rest of their electronic lineup: modestly priced, decently featured, above-average performing. And we felt it up.
The Vizio Tablet isn't going to blow you away with specs. In fact, it's not going to blow you at all. It's filled with the guts of a phone, more or less: a 1 Ghz processor of unverified provenance, 512 MB of RAM, and 4 GB of internal storage (plus SD card room for an extra 32). This isn't a monster by any form factor's standard.
And yet, the 8-inch slab felt nice. The software was unfinished—so view the above with that in mind—but even so, the screen met my golden criterion of not being horribly unresponsive, which is enough to make me exile any touch-based device to the wastes of hell without a second thought. The Tablet was glitchy, yes—but that's something Vizio can (and we hope will) knock out before it hits stores next month. But the underlying hardware was fine. Sturdy. Grippy. Substantive without tiring my fragile wrists. It's not brushed aluminum, mahogany and kevlar, but it doesn't feel like it was dropped out of a Chinese gum ball machine like most other budget tablets.
Movie playback on the 1024x768 display was smooth and quick to load, Google Maps was perky, and the Gingerbread under Vizio's mostly-attractive custom skin was finely functional, when it wasn't burping up beta gas.
G/O Media may get a commission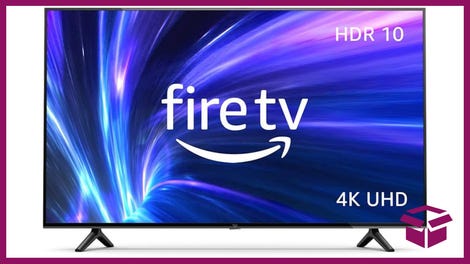 42% Off
Amazon Fire TV 50" 4K Smart TV
The Vizio Tablet has some nice touches, like an extra side speaker to ensure property stereo sound from both landscape and portrait grips, and—far more importantly—an IR emitter, which lets the device babble to your TV (and accompanying AV gear), potentially putting it on a home theater pedestal.
And that's probably the coolest part of the Vizio Tablet. Both aesthetically and, to a significant extent, functionally, it mirrors the app suite Vizio's sticking on their TVs, meaning it's an affordable, facile way to jump into the land of TELEVISIONS THAT RUN APPS. Vizio isn't Samsung or Panasonic, but having seen TV app offerings of the latter two, Vizio is the first company that actually appears to give a shit about the software its TVs run, and the Tablet is, in principle, positioned to take awesome advantage of that.
It's not a glorified remote. It's a modest Android tablet that could also make using your home theater more enjoyable, provided the software that's delivered to shelves is polished. And for $350, it's an entire non-threatening first tablet on its own—stay tuned for us to run it through Tablet Boot Camp once the fully finished package is on our desks. [Vizio]