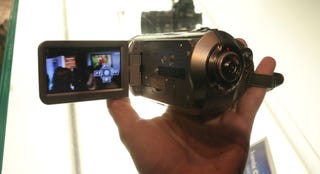 We've already given you some numbers and a rundown of this tapeless, SD card-based HD wunderkind—but now we can tell you how it feels. And it feels pretty damn nice.
Everything's easily accessible using one hand (just your thumb, really) and the interface is pretty neatly arranged. The compact size and hand grip make you feel like you've got a really solid grasp on it. But the one gripe I have is that the four-way navigation joystick is a smidge too far to the right, so when you manipulate it with your thumb, you kind of lose your grip and all of the weight shifts to the strap. And with a camera that costs as much as the SD1 does, it's not a comfortable feeling.
Speaking of cost, Panasonic has cut the price by $200, so it and its DVD-based counterpart, the HDC-DX1 now both run $1299. Not cheap, but hey, we'll take what we can get, especially with video as sharp as it was. Picture and number overload after the jump.
Weight(w/o Battery): 430g Dimensions (W x H x D): 74 x 69 x 142 mm Image Sensor: 1/4-inch 3CCD image sensor Total pixels: approx. 560 K x 3 Effective pixels: Motion Picture: approx.520 K x 3(16:9) Lens: Auto iris, 12X power zoom; F 1.8 to 2.8 (f = 3.0 to 30.0mm); 35mm equivalent Motion picture: 38.5 to 462 mm (16:9) Still picture: 38.5 to 462mm (16:9) Filter diameter: 43 mm Zoom: 12X optical zoom, 30/120X digital zoom Compression: MPEG4-AVC / H.264 (AVCHD standard compliant) Transfer rate: HF : Approx. 13 Mbps (CBR); HN: Approx. 9 Mbps (VBR); HE: Approx. 6 Mbps (VBR) Audio compression: Dolby Digital (Dolby AC3), 5.1ch or 2ch
Panasonic HDC-SD1 [Gizmodo]