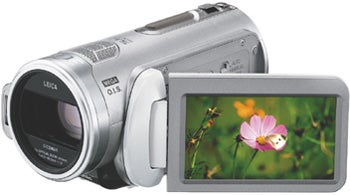 Buying a high-def camcorder is still considered a luxury splurge, but that hasn't stopped some hardcore tech geeks from taking the plunge. The newest kid on the HD block is Panasonic's HDC-SD1. Unlike other high-def shooters, the SD1 is tapeless so it stores your footage onto SD and SDHC memory cards. Because it's tapeless, it's also smaller than other camcorders out there. But is it worth your $1,499? Hell yeah.
For starters, it's one of the few camcorders out there that lets you record 5.1 surround sound audio. It's got a 3-inch widescreen LCD and HDMI output. Ok, so Panny doesn't give you an HDMI cable, but they make up for it cause they start you off with a bundled 4GB SDHC card, which lets you record about 40 minutes of 1080i video. But here's where it matters the most. Performance. Although the SD1 suffered from a case of the blurries when shooting moving objects in dark scenes, everything else looked flawless. No noise, no jaggies, nothing.
As an added bonus, the SD1 can take 2.1MP stills when shooting video, a nice feature to have. About the only downside the folks at Digital Trends could find was the lack of an accessory shoe. Otherwise, it's a nice way to spend $1,499, though we suggest newbies hold off till Sanyo's HD2 comes out—you wouldn't wanna spend $1,499 on a HD camcorder if you're only gonna use it once.
Panasonic HDC-SD1 [Digital Trends]