After the visual overhaul Apple gave to Yosemite, it's perhaps no surprise that this year's desktop and laptop refresh is altogether more muted. This is a step rather than a leap forward, but there are still a lot of little improvements that are worth the upgrade.
I've been working with OS X El Capitan for a couple of weeks now—the public beta opens up in July if you want to get involved, but I wouldn't recommend installing it on a primary machine just yet. Here are my first impressions of this almost-finished update to Mac OS X.
The New Features
Probably the question most people want answered first: What's new? Well, you can now snap windows to either the side of the screen, just like that other operating system that Microsoft makes, which can be really useful when you're on a larger monitor—you can handle the operation from Mission Control, with a gesture shortcut or by clicking and holding on the green zoom button.
There aren't too many applications that can take advantage of this right now, but they'll come in time. It may not be particularly helpful for the way you work, but we'd bet the majority of El Capitan users manage to take advantage of this in some way: Messages next to Maps, a browser window next to a document, and so on. It's a good idea, implemented in a smart way.
G/O Media may get a commission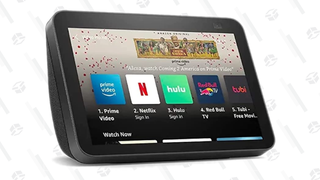 Mission Control gets a cleaner look with available desktops shown at the top of the screen and new abilities to quickly open a new space, send an app full screen or create a split view; app windows are laid out once again rather than stacked as they were in Yosemite, though you can reverse this change in the settings.

There are little tweaks too: Two-fingered swipes in Mail to keep or delete messages, a new Find My Friends widget in Notification Center, and the ability to move your fingers or mouse quickly to make the cursor grow to locate it more easily. Not massive upgrades, but all designed to help you get more done in less time.
Safari, Spotlight and Notes
Safari continues its slow but steady march back to relevance by adding the ability to pin tabs, which work pretty much as they do in Chrome, and quick shortcuts for muting noisy tabs—a truly essential trick for today's web and one that Chrome only has as a beta feature right now.
Spotlight gets a natural language upgrade, so you can search for "emails from Chris in December" or "presentations about money" and El Capitan is smart enough to know what you're after. It functions in Apple applications and Finder too, though it's a bit hit and miss: It's one of the few areas in the beta OS that looks like it needs some spit shine.
Spotlight extends its web searching capabilities (for sports and weather for example) and is starting to look a lot like Siri for the desktop—with Cortana coming to Windows 10 and Google Now just about everywhere, Apple knows it needs a competing smart assistant that understands exactly what you're trying to find, whether online or stored locally.
Notes gets the biggest overhaul of the native apps, with support for links, photos and other file types, alongside the ability to add maps and checklists if needed. It's not going to replace Evernote or OneNote just yet, but it's heading in the right direction (and of course syncs across iCloud).
Photos gets a bump too as Apple looks to build up a formidable image management offering across all of its hardware: Support for third-party extensions, metadata editing features (including locations) and better face recognition are all present and correct in the new OS and feel like they should've been there all along.
Disk Utility gets a revamp at last, with a much cleaner interface and better layout, and the public transit support in Apple Maps for iOS is now available on the desktop too (for the handful of cities currently supported). Like El Capitan as a whole, these applications are edging forward in terms of functionality and intuitiveness.
Stability, Speed and Design
Apple execs spent a large part of WWDC emphasizing the underlying speed and stability improvements Apple has baked into El Capitan: Upgrades that won't take your breath away but that help you get more stuff done more quickly on your Mac.
Assessing speed and stability improvements on a developer beta isn't really fair game but from our experience Apple isn't kidding—overall the system feels slicker and more robust. Yes, we spotted bugs and graphical glitches, but they're few and far between even a few months away from launch.
The Metal graphics engine makes the leap from iOS as well and should make for faster, more intensive gaming experiences on the Mac—plus an easier route for iOS coders looking to port their games over.
As for battery life, we didn't notice much of a difference on a late-2013 Retina MacBook Pro—if anything it felt like there was more battery life at the end of the day rather than less, although we weren't able to do a true before-and-after comparison (and this is still beta code anyway). The early signs are good but we'll have to wait and see.
The headline news as far as the design of the OS is concerned is the introduction of the San Francisco font first seen on the Apple Watch. It takes some getting used to but we found it added clarity and gave the OS a neater feel overall. It's just a font, though—you might not really care for it.
The beachball is brighter and funkier looking, so it's not quite as disappointing when you see it on screen, and the menu bar can now be hidden from System Preferences as well as the dock. Again, small changes that freshen up the feel of the OS.
The El Capitan Difference
The improvements Apple has made here are intended to reduce your reliance on anything non-Apple, whether that's a plug-in for splitting windows across the screen, Evernote for note taking or Chrome for tab pinning. All of the features feel useful and natural and we wouldn't expect many users to be clamoring to downgrade back to Yosemite.

It continues the work of Yosemite in making OS X more iOS-like too. Of course there's no real sign of Apple attempting a full Windows 10-style merge, but they're gradually borrowing more and more features from each other, and becoming more closely related in terms of looks and function.
This brave new world of free OS upgrades has largely removed the debate about whether or not to make the switch: El Capitan looks faster, more useful and more reliable than anything that's come before it. The average Mac owner may not notice too much of a change—apart from that font—but those savvy enough to adapt to the new shortcuts, tools, and tweaks are going to find they add up to a more useful machine.
---