If you saw our hands on with the V-Moda Vibe fashion earbuds, you'd know that they're both comfortable and pretty great sounding for the price. Their two latest version of the Vibe, the Red Roxx and the La Mocha, are the same great mid-price-range earbuds but with some slight changes.
The first, of course, is the color. The Red Roxx set is supposed to go with the (RED) version of the iPod Nano (or a RED RAZR), and the La Mocha is brown to go with the brown Zune. Both have the same silicone padding and the same great sound production as the original V-Moda Vibes. The only difference that our untrained ears could hear was a slight increase in bass response, which made it a bit more bass heavy than before.
Still, these new buds are priced at only $100 and offer an easy way to improve your appearance on your daily commute without exercise, better grooming, or a new wardrobe.

G/O Media may get a commission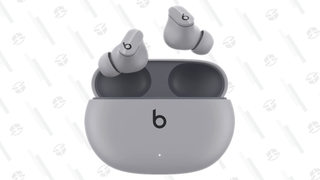 Product Page [V-Moda]