Forrest J Ackerman is one of those people that you've probably never heard about unless you're a dyed-in-the-wool fan of all things science fiction. However, the man created science fiction fandom virtually one handed, starting back in 1930. Ackerman just celebrated 91 years of scifi fanatacism, and he doesn't show any signs of slowing down.
Recent Video
This browser does not support the video element.
Ackerman caught the scifi bug back in 1922 when he saw the film One Glorious Day, where a homeless spirit takes over the body of Professor Ezra Botts. A few years later he bought his first copy of Amazing Stories and his life was changed forever. He later formed "The Boys Scientifiction Club" in 1930, and began his lifelong pursuit of being science fiction's number one fan. Well, male fan anyhow. "Girl-fans were as rare as unicorn's horns in those days," he says.
However, that was only the beginning of his obsession. He also coined the phrase "sci-fi," wore one of the first ever fan costumes to a convention (he called it a futuristicostume), received a special Hugo award in 1953 for being the "#1 Fan Personality," and has amassed a collection of science fiction memorabilia that was so big, it has now become a part of the Science Fiction Museum and Hall of Fame.
G/O Media may get a commission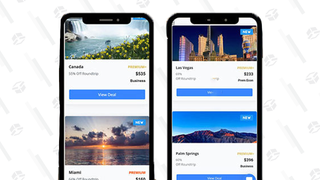 95% Off
Dollar Flight Club Premium Plus+ Lifetime Subscription - Lowest Price Ever!
He also launched and edited the magazine Famous Monsters Of Filmland which inspired the likes of George Lucas, Steven Spielberg, Billy Bob Thornton, Peter Jackson and Tim Burton. Today he resides in the "Acker mini-mansion" located in Hollywood where he holds court over a smaller collection of items, and gives weekly tours every Saturday. As far as fans go, he sets the benchmark for dedication and staying power.