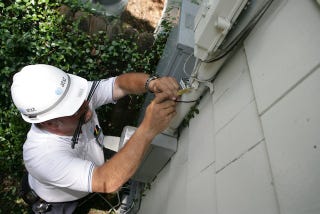 Starting today through Sunday, AT&T U-Verse customers will be able to preview a brand spankin' new Screen Pack filled with even more content than was previously available, says AT&T. For the low, low price of only $5 a month, U-Verse TV Screen Pack customers will instantly have unlimited access to "an extensive library" of movies across the U-Verse ecosystem (Uverse.com, U-Verse app, U-Verse TV).
Movies from Sony, MGM and other studios are on board and titles will be added on an ongoing basis. If you're a U-Verse customer and want to access the free preview, you need only hit "On Demand" on your U-Verse remote and scroll till you find "Screen Pack". You can also search for it on the app or website.
In addition to that, two new U-Verse apps are being released too. Twonky Beam lets you sling "compatible" videos from the Web on your smartphone to your U-Verse set-top box. If you're a U-Verse TV customer with "High Speed Internet" you'll be able to "throw" photos from your mobile device or Facebook page to your TV using the Pix and Flix app. And they're both free!