Yep, this might be incredible. The new Razer blade is a 14-inch monster... ultrabook. With a discrete Nvidia GTX graphics card. Basically, this is the smallest, most badass gaming laptop-cum-ultrabook we've seen.
It's Razer, so obviously this is expensive. The new 14-inch Blade starts at $1800, and scales up from there if you want to upgrade the 128GB SSD to 256 or 512GB. The full specs include next-gen Haswell Intel processors; 8GB onboard DDR3 RAM; Nvidia GTX 765M (2GB GDDR5 memory) & Intel HD4600 graphics; 14-inch 1600x900 display; and 3 USB 3.0 ports. It's claiming six hours of battery life, but good luck with that; we'll let you know what the number looks like under a gaming load once we get our hands on a review unit. Overall, there's nothing unexpected in the specs, really. The real news comes from Razer's well-made Blade sizing down to 14 inches.
There are other 14-inch gaming laptops, of course. But like the original 17-inch Blade, this one is a good deal slimmer than its predecessors. The Alienware M14x, for example, is 14 inches and 6.5 pounds (and comes with a 1.3-pound power block—Razer's always had nice power supplies).
Comparing it to non-gaming laptops and ultraportables, the 14-inch Blade's tininess holds up, more or less. The Blade weighs 4.135 pounds and is 16.8mm thick. The Aspire S7, one of our favorite ultrabooks, has a 1080p 13-inch screen is weighs just 2.86 pounds (11.9mm); the 13-inch Yoga is 3.4 pounds. A 13-inch MacBook Pro is 4.5 pounds (24.1mm), and the Retina 13 is 3.57 pounds (19mm). So it's is brawny and trim—thinner than a retina MBP 13, even—but not exactly an ultralight.
G/O Media may get a commission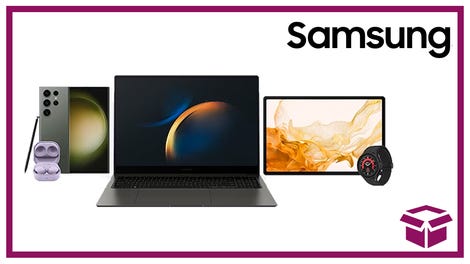 24 hour deals
Discover Samsung - Daily Deal
Until now, anyone who wanted a nicely made and designed but still powerful laptop was mostly looking at a 15-inch MacBook Pro. Nothing wrong with that, really, but some people like Windows. And Windows manufacturers have been sticking their A-team designers on less robust ultrabooks for a few years now (and didn't even have A-team designers before that, really).
Add in the fact that Razer's keyboards have been great on the past two Blades, and that the 14-inch drops the gaudy Switchblade keys on the right-hand side, and this should be a pretty awesome Windows laptop, and the best small one with a real graphics card.
The old 17-inch Blade, now the Blade Pro, also got bit of a makeover. It's mostly the same as last year's updated model, and shares the same specs as the 14-inch, except for that bigger 1080p screen and has a higher wattage processor. But now its Switchblade macro keys are updated to work better with professional uses. It starts at $2300.
We'll have full hands-on impressions shortly, so check back for that, but for now, going by the specs, this looks like it could be incredible. Assuming you've got the coin.