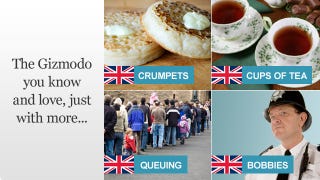 The new Gizmodo UK is here, chaps.
Starting very soon, UK readers will be automatically redirected to the new Gizmodo UK site at gizmodo.co.uk. It'll have a lot of the same content as the Gizmodo US site, but with all the things UK readers don't want to miss, like news about robot crumpet makers. If you really miss us, you can come back to the Gizmodo US too. (But since it's run by our own sozzlepopping Kat Hannaford, you shouldn't miss us too much.)
One of the things that is different is the commenting system. For example! To get a star there, you only need 20 likes on your comments, not the grace and mercy of the editors. And starred commenters actually get more than bragging rights: The publisher of Giz UK, Future Publishing, is going to throw exclusive parties and stuff for star commenters.
Questions? Concerns? Email me or Kat and we'll get you sorted. You can also follow Gizmodo UK on Twitter, and "like" on Facebook too.