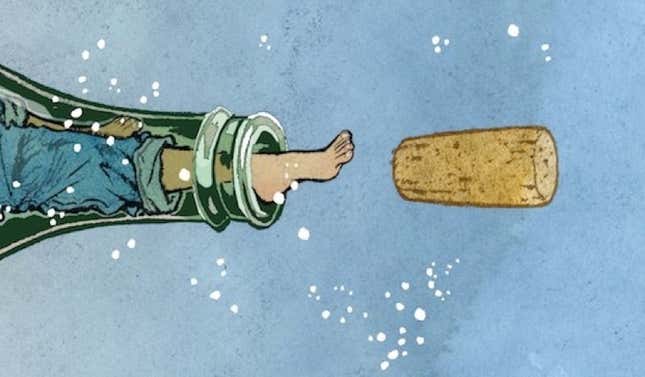 October is here, and our list of new scifi and fantasy books is as overstuffed as a trick-or-treat bag carried by a kid who walked the same candy-rich route three times in three different costumes. In honor of the season, there's even some horror on this month's round-up.

Caleb McLaughlin Wants to Play Static Shock
Akata Warrior by Nnedi Okorafor
In the sequel to Akata Witch, a Nigerian-American girl continues to develop her magical powers as she prepares for a predestined showdown that will decide the fate of the world. (October 3)
Before the Devil Breaks You by Libba Bray
The third (of four) book in the Diviners series follows the supernaturally-powered group as they take on a new enemy: the King of Crows, who oversees the malevolent ghosts who haunt an abandoned asylum outside of New York City. (October 3)
The Best American Science Fiction and Fantasy 2017, edited by John Joseph Adams and Charles Yu

This anthology contains 20 of the year's best science fiction and fantasy short stories, culled from places like Lightspeed and Tor.com. Notable authors include The Last Unicorn's Peter S. Beagle, N.K. Jemisin, Catherynne M. Valente, and Genevieve Valentine. (October 3)
The Bloodprint by Ausma Zehanat Khan
This first in a planned quartet of fantasy novels imagines a world where a rapidly-spreading movement called the Talisman seeks to control knowledge and oppress women. Undaunted, a pair of female warriors set out to recover the Bloodprint, a mysterious text that could help end the Talisman's reign of terror forever. (October 3)
The Complete Psychotechnic League, Vol. 1 by Poul Anderson
The Hugo- and Nebula-winning author presents the first (of three) collections of his Psychotechnic League stories, about a post-World War III group doing its best to spread peace instead of conflict. (October 3)
The Core by Peter V. Brett
The author's Demon Cycle wraps up with this fifth installment, which sees the series' two heroes, Arlen and Jardir, join together with close friends and family members to fight one last battle against evil to save humanity once and for all. (October 3)
From a Certain Point of View: 40 Stories Celebrating 40 Years of Star Wars by various authors
These 40 stories re-tell key moments from 1977's Star Wars: A New Hope, offering new perspectives on familiar events by shifting the point of view. For instance, Nnedi Okorafor weaves a tale about the trash-compactor monster. Other authors include Gary Whitta, Meg Cabot, Pablo Hidalgo, Pierce Brown, Wil Wheaton, and many more. (October 3)
The Genius Plague by David Walton

A mysterious fungal infection spreads across South America, and those who don't die become super-smart parts of a hive mind working toward a sinister goal. Justifiably concerned, a man fights to save his brother from what certainly feels like a covert alien takeover in the making. (October 3)
Haunted Nights, edited by Lisa Morton and Ellen Datlow

Halloween season kicks off with 16 new horror tales exploring the most horrifically wonderful time of the year. Authors in the trick-or-treat mix include Seanan McGuire, Jonathan Maberry, Garth Nix, Jeffrey Ford, Brian Evenson, and Stephen Graham Jones. (October 3)
That Inevitable Victorian Thing by E.K. Johnston
A near-future tale that imagines a different sort of British Empire, set to be ruled by a crown princess who gets a chance to change the world before she's pressed into a politically-arranged marriage. (October 3)
Machine Learning: New and Collected Stories by Hugh Howey

This collection of short fantasy and science fiction tales from the best-selling author of Wool includes three stories set in that book's world, as well as two brand-new pieces written just for this release, and 15 previously-published works. Every entry includes a note from the author explaining its genesis. (October 3)
The Murders of Molly Southbourne by Tade Thompson

Every time Molly Southbourne bleeds, another Molly enters the world—and this new version of her always wants the old version of her to die. Molly number one has learned how to evade her murderous clones, but how long will she really be able to hide from herself? (October 3)
Things I'm Seeing Without You by Peter Bognanni
A teenage girl tries to heal after the suicide of her first love by helping her father with his "alternative funeral business," but finds dealing with loss is a complicated and extremely unpredictable affair. (October 3)

Quillifer by Walter Jon Williams

In this epic fantasy set in a world of goddesses and dragons, a young student returns home to find his city beset by pirates. After barely surviving and seeing his family in chains, he sneaks off to gather a crew of friends and new allies, determined to fight back. (October 3)
Satellite by Nick Lake

Three teens who've spent their entire lives on a space station, raised by surrogate-parent astronauts, get ready to visit Earth for the first time. But there's no real way to prepare the kids for the incredible amounts of culture shock they're about to face. (October 3)
The Tiger's Daughter by K. Arsenault Rivera

Two goddess-warriors aim to fulfill their destiny by joining together to save their land. It won't be easy, as a long-held magic border wall has begun to crack and dauntingly evil forces will soon be upon them. (October 3)
What the Hell Did I Just Read by David Wong

The third book in the comedy-horror-scifi-weirdness series that kicked off with John Dies at the End follows the trio of Dave, John, and Amy, as their latest case morphs from investigating a shape-shifting child predator into something way, way, way more bizarre. (October 3)
The Best of Richard Matheson by Richard Matheson

The hugely influential author, who died in 2013, gets a new "greatest-hits" collection of his iconic short stories, curated by rising horror talent Victor LaValle (The Ballad of Black Tom). (October 10)
The Book of Swords, edited by Gardner Dozois

The big draw here is a new A Song of Ice and Fire story by George R.R. Martin, intriguingly titled "The Sons of the Dragon." But! There are also stories by Robin Hobb, Ken Liu, C.J. Cherryh, Ellen Kushner, and many more, all weaving swashbuckling tales of fantasy. (October 10)
The Fissure King: A Novel in Five Stories by Rachel Pollack
The author and tarot-card expert's four existing novellas about mischievous shaman-for-hire Jack Shade come together in a single volume, with a final tale to wrap up his occult-themed adventures. (October 10)
Forest of a Thousand Lanterns by Julie C. Dao

A beautiful teenager with a royal destiny is haunted by dark magic in this East Asian fairy tale, a debut novel that offers a rich retake on the origin story of Snow White's Evil Queen. (October 10)
Ironfoot by Dave Duncan

In medieval England, a stable boy lucks his way into attending, then eventually teaching at, a school of magic. He's always been a bit of an outcast, but he suddenly becomes the royal family's greatest hope when he stumbles upon an ancient spell that could help thwart an assassination plot. (October 10)
Light Both Foreign and Domestic: A Collection by Darin Bradley
A short-story collection of works "that reveal the persistent light of the human spirit, no matter the harrowing darkness that presses down on us." (October 10)
A Long Day in Lychford by Paul Cornell

In the third Witches of Lychford book, Brexit has just passed and the forest witches aren't quite sure what the future brings. Of more immediate concern, however, is the fact that a smartphone-app glitch has started allowing random wanderers into their magical realm. (October 10)
A Lot Like Christmas by Connie Willis

Yep, it's a book of Yuletide tales arriving a tad early, but seeing as how it's from 11-time Hugo winner Connie Willis, we'll allow it. This volume is actually an expanded edition of Miracle and Other Christmas Stories, adding five newly-collected stories to the speculative bunch. (October 10)
The Sea Peoples by S.M. Stirling
Set in a fanciful future where advanced technology was mysteriously wiped out, forcing human society to slowly rebuild itself, this latest entry in the author's Novels of the Change series follows parallel tales of a group that travels into the underworld to save a prince's soul, and a war in the South Pacific that involves both weapons and magic. (October 10)
To Guard Against the Dark by Julie E. Czerneda
The author ends her Reunification trilogy with the tale of a starship captain who returns from the edges of space carrying valuable information that could prevent an all-out war. (October 10)
Tool of War by Paolo Bacigalupi
The author explores a character first introduced in his previous dystopian novels Ship Breaker and The Drowned Cities: Tool, a man-beast bioengineered for war who breaks free and goes rogue, intent on taking down his former masters. (October 10)
The World of Lore: Monstrous Creatures by Aaron Mahnke
An illustrated companion to the popular, monster-centric podcast, soon to be an Amazon series. Watch the latest trailer here, which was written by its host. (October 10)
Breach of Containment by Elizabeth Bonesteel
The author's latest military scifi thriller follows the adventures of former Central Corps Commander Elena Shaw, who has left the military for an engineering gig aboard a commercial shipping vessel—but still finds herself drawn into a frantic quest to stop a war before it starts. (October 17)
Infinite Stars, edited by Bryan Thomas Schmidt

Both new and reprinted stories fill this collection of space opera and military scifi tales, including new works set in the universes of Orson Scott Card's Ender's Game, Jack Campbell's Lost Fleet, and Brian Herbert and Kevin J. Anderson's Dune. (October 17)
A Plague of Giants by Kevin Hearne

The author of the Iron Druid Chronicles kicks off a new fantasy series that begins as an army of giants invades a kingdom, and follows the mostly ordinary people (a mother, a scholar, and, uh, a kid who can talk to animals) who must become extraordinary heroes to fend them off. (October 17)
Six Months, Three Days, Five Others by Charlie Jane Anders

The co-founder of io9 collects six of her short stories here, including the Hugo-winning "Six Months, Three Days," and the brand-new "Clover," a cat-centric coda to her Nebula-winning novel All the Birds in the Sky. (October 17)
A Skinful of Shadows by Frances Harding
A wealthy family refuses to accept an illegitimate daughter—until they realize she may be of use to them, since she's inherited the prized ability to be possessed by ghosts. The English Civil War forms the backdrop of this dark historical fantasy. (October 17)
The Stone in the Skull by Elizabeth Bear

The Hugo winner returns to the world of her Eternal Sky series with this first book in a new series, about an automaton whose wizard creator made him partly human, and his sidekick, an ex-bodyguard known as "the Dead Man." They make an unlikely duo, but they stick together as war looms. (October 17)
The Two of Swords: Volume One by K.J. Parker

Various battle-weary characters intersect in this first book in a new series, about a war that's been going on so long there are few still alive who remember why it even started. (October 17)
Welcome to Night Vale: It Devours! by Joseph Fink and Jeffrey Cranor
The creators of the hit podcast present a new mystery, in which a no-nonsense scientist arrives in the town of Night Vale and must soon reexamine her beliefs when she encounters the mysterious group known as the Joyous Congregation of the Smiling God. (October 17)
Vallista by Steven Brust
The author's 15th book in his Vlad Taltos series digs into the mysteries of the main character's home planet, Dragaera, while sending him on the run with a bounty on his head. (October 17)
Weaver's Lament: Industrial Magic Book 2 by Emma Newman
The sequel to Brother's Ruin brings more magical adventures for Charlotte as she secretly learns to control her powers, but she's soon drawn into a mission that could either save or dishonor her own family. (October 17)
The Book of Dust: La Belle Sauvage by Philip Pullman
Fans of The Golden Compass, take note. This first entry in a new three-part work is set 10 years before the best-selling His Dark Materials series begins, and covers the early life of Lyra Belacqua and her daemon Pantalaimon. (October 19)
Anno Dracula: One Thousand Monsters by Kim Newman

After they're exiled from Victorian England, a group of vampires moves to Japan, where they don't exactly fit in with the local blood-sucking population. Making matters worse, there's a murderer in their midst—and the Temple of One Thousand Monsters threatens to unleash something even more terrifying. (October 24)
Ka: Dar Oakley in the Ruin of Ymr by John Crowley
A 2,000-year-old crow named Dar Oakley shares the incredible story of his life—or lives, since his tale includes many multiple returns to Earth from the land of the dead. (October 24)
Strange Weather: Four Short Novels by Joe Hill

The author of The Fireman presents four terrifying tales, exploring such horrors as: a Polaroid camera with supernatural powers; a skydiver who gets trapped by a hostile cloud; a storm that dumps a deluge of deadly glass nails instead of rain; and a near-miss mass shooting in a shopping mall. (October 24)
Switchback by Melissa F. Olson
This sequel to Nightshades picks up three weeks after the events of that book, with the Chicago branch of the Bureau of Preternatural Investigations barely having time to regroup before they're back out on another high-stakes case. (October 24)
Barbary Station by R.E. Stearns

Unable to find legitimate work in their war-torn solar system, a pair of engineers decide to join up with a ragtag group of space pirates—but they'll need to take down a sinister AI to earn their place with the crew. (October 31)
Beasts Made of Night by Tochi Onyebuchi

In this debut fantasy adventure, a talented young sin-eater believes he'll be able to overcome the inevitable side effect of his livelihood: madness. So far he's doing a decent job at it, until he becomes pulled into a royal conspiracy that threatens his love, his life, and his world. (October 31)
Bubba and the Cosmic Blood-Suckers by Joe R. Lansdale

The gods of rock and roll monsters have blessed us with a prequel to Bubba Ho-Tep, and it sounds like a hoot. Elvis Presley joins a ragtag crew (other members include "a strategic wizard" and a wanna-be pop star) to take on a group of shape-shifters who've brought evil to New Orleans, led by the King's notorious manager, Colonel Tom Parker. (October 31)
First-Person Singularities: Stories by Robert Silverberg
This collection features 18 tales selected from the 40-year career of the scifi legend. All of them—as you can probably guess—are told in the first-person singular. (October 31)
Hiddensee: A Tale of the Once and Future Nutcracker by Gregory Maguire

The author of Wicked and After Alice takes on another fantastical literary realm: the magical land of the Nutcracker. Here, he gives a backstory to toymaker Drosselmeier, first introduced in the 1816 story by E.T.A. Hoffmann, and later made famous for making Christmas trees grow in countless performances of the classic ballet. (October 31)
The Mongrel Mage by L.E. Modesitt Jr.
This is the 19th volume in the Saga of Recluce series, and it kicks off a new storyarc surrounding Beltur, a magician with the unique ability to use both white and black magic. (October 31)
Siege Line by Myke Cole
A undead Navy SEAL becomes determined to take down the shadowy organization that stole his family, his career, and even his life. But he'll need the help of a group of elite warriors—and the right kind of magic on his side. (October 31)