Night Nurse might be heading to Doctor Strange—and she won't be played by Rosario Dawson. Simon Pegg teases Idris Elba's Star Trek Beyond character. Jessica Jones will go even further than the original comics. Plus, a new look at The Martian, The 100 casts a singer, and more. Behold, Spoilers!
Spider-Man
Director Jon Watts discusses Tom Holland's approach to Peter Parker:
[Tom] can be a real high school student. That's why people love Spider-Man. He's the most grounded, relatable of superheroes. And Tom can really do that. He captures that. And he can do a standing back-flip. He's perfect.
A bizarre (and, quite frankly, absurd) rumor from Latino Review is claiming that Billy Zane and Jason Biggs are in talks to play Spidey comics villains The Vulture and Scorpion, respectively. The casting, which also includes details for casting Mary-Jane Watson, Flash Thompson, and Harry Osborn, comes from an-off screen snapshot of a word document that was posted to Imgur—so take it with an extremely large pinch of salt. [Film School Rejects]
G/O Media may get a commission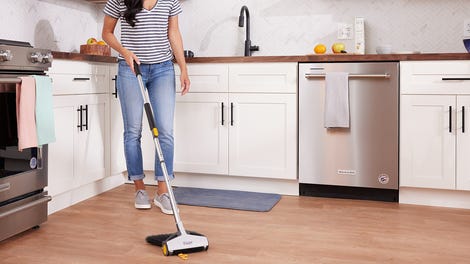 BOGO 50% Off
Flippr - BOGO 50% Off
---
The Sentence
Game of Thrones director Neill Marshall will direct this "futuristic revenge thriller in the vein of Death Wish" for Applebox Entertainment. [Deadline]

---
Star Wars: Rogue One
Gary Whitta briefly discusses his time writing the first draft of the film's script:
I spent the best part of a year on the script working very closely with Gareth Edwards, who's directing it. He's one of the smartest filmmakers I ever met and also one of the few people I've ever met who's an even bigger Star Wars fan than I am. I think he would rather die than not get to film right. He's so committed to making a Star Wars film that everyone can look at and feel that honors the legacy of [the Star Wars] films.

I wish I could talk more about it in more detail, but there will be plenty of time for that next year. I think it's going to be a fantastic film.
[Blastr]
---
Doctor Strange
A rumor is circulating that the role Rachel McAdams is in talks for is for the comic book character Linda Carter, aka The Night Nurse, a civilian nurse who secretly tends to the wounds of a variety of superheroes.
The speculation largely comes from the fact that the Night Nurse has a history with Doctor Strange in the comics, as well as a quote from former Daredevil showrunner Steven DeKnight—who stated Rosario Dawson's character in the series, Claire Temple (an amalgamation of a comic character named Claire Temple and the Night Nurse persona), was originally going to be Linda Carter—before Marvel stepped in and said that the character was off limits, due to future movie plans. [Coming Soon]
---
Five Nights At Freddy's
The popular indie horror video game series, about a group of creepy animatronic animals with links to the murders of young children, is being adapted into a movie, which will be directed by Gil Kenan. [Coming Soon]
---
Captain America: Civil War
Sebastian Stan discusses the post-credits scene in Ant-Man that comes from the movie:
I think [what Bucky was caught in was] more of a vise. But it would never happen at his own hand, by his own doing. In terms of that scene in Ant-Man, I've seen some of the ideas people have about it and I would just say that whatever you're seeing on the surface, it's not as obvious as that.

There might be a whole lot more to the scene. I would say someone would probably want to put him in a vise.
[/Film]
---
Star Trek Beyond
Simon Pegg briefly talks about Idris Elba's character:
It's a really interesting, complex character... what we don't want to do is have the same kind of villain with the same motivation [as Khan].
[CBR]
---
Nosferatu
Robert Eggers will direct the remake of the classic horror film. [First Showing]
---
The Martian
Here's some new pictures from the film—go to the link for more. [Total Film via Coming Soon]
---
Daredevil
Steven S. DeKnight teases the show's approach to the Punisher:
The thing about The Punisher, and I think there are great things about each of those versions, but none of them was completely the Marvel version.

And none of those movies were under the Marvel Studios banner ... they recently got The Punisher back. So this is really the first time that we're seeing the Marvel Studios from the Iron Man days, when they can control their own product, actually do this character.
[/Film]
---
Once Upon A Time
Jennifer Morrison and Colin O'Donoghue discuss the show's theme of villainy in the upcoming season:
The tagline for the season is, "Evil is made, not born," so as a human being, not a character, do you think that is true?

JM: I do!

CO: I think so. It's a difficult question to answer. The Darkness is there, and Emma has to choose to take the Darkness on board. Rumpel had to choose to take the Darkness on board. It's whether or not you embrace it or fight against it.
---
Jessica Jones
Melissa Rosenberg teases the scope of the show:
It all starts with Brian Michael Bendis's Alias series. He created this incredibly flawed, damaged interesting character. Regardless of gender, it was the character that drew me. He wasn't afraid to go there and we went even further. We've gone further in all of our storytelling.
While Jeph Loeb discusses the reaction to the show so far:
I think you need to watch the show. I think the highest compliment that we've gotten so far — because so few people have actually seen it — was from Brian Bendis himself, who really felt that we had brought this to life in a way that was honest and compelling. And I think that speaks to the quality of the people that are — of the performances and at the same token, each of the scripts and the voices that they were given.
[CBR]

---
Son Of Zorn
Jason Sudekis has been cast in the lead role of Zorn in the series, an animated/live action mashup from Phil Lord and Chris Miller about a fantastical warrior who comes home to his wife and son and must deal with the humdrum of a normal life. [TV Line]
---
Supergirl
Chris Browning has been cast as comics villain Reactron. According to THR, the villain will appear in the third episode of the season, coming to National City, after fighting Superman, to enact vengeance against the Man of Steel by killing Supergirl.
---
Rick and Morty
Dan Harmon discusses the new season:
We definitely learn more about the physical galactic environment. Yeah, we travel more of the cosmos.

I think of Season One as a car driving ninety miles an hour in a straight line, and in Season Two, it's taking a corner. It's cooler, in some respects, but it's also more out of control. And some mailboxes got hit.
[CBR]
---
Teen Wolf
The tenth episode of season five will be titled "Status Asthmaticus". [Spoiler TV]
---
The 100
Singer Shawn Mendes has announced he is joining the show for a guest role in the third season:
---
The X-Files
Finally, Gillian Anderson has posted a wonderfully goofy picture of herself and the recently cast Robbie Amell (who is playing Agent Miller) on Twitter. X-Files hats! [Coming Soon]
---
Additional reporting by Gordon Jackson and Charlie Jane Anders. Top image: The Amazing Spider-Man 2.