Today is April Fool's Day, April 1st, that cursed of holidays, bane of bloggers and too-online social media addicts everywhere. While I've already highlighted my personal favorite April Fools' Day gag, there's a lot more where that came from. Some of them aren't half bad, either. So use this post as both a roundup of the handful of April Fools' Day jokes we could actually stomach here on io9, and a tool for finding out the truth in the wide world of superheroes, comics, and various nerdy things.
The Director of Shazam Releases a "Teaser Trailer"
David F. Sandberg, director of Shazam and owner of the fabulous twitter handle @ponysmasher, shares a glimpse of his upcoming film. Gotta admit, that's a solid reference.


Toonami Finally Embrace Subs Over Dubs
Every anime nerd worth their salt knows that subs are better than dubs. The Japanese voice actors just have more gravitas, man! Anyway, last night Cartoon Network's Toonami finally honored the truth, not only airing its normal bumpers and promos in Japanese, but premiering, in subtitled Japanese, the first episode of the much-anticipated FLCL revival, months in advance of the hyperactive mecha anime's planned release.
G/O Media may get a commission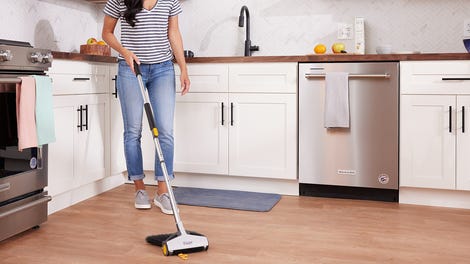 BOGO 50% Off
Flippr - BOGO 50% Off
Dang, that's actually pretty amazing.
Tom Holland and Edgar Wright Are Collaborating on a Ferris Bueller Reboot
They're not, but I would watch that.
Dragon Ball's Website Becomes a Shrine to Android 17
Recently, Dragon Ball Super came to an end, and to celebrate the official Dragon Ball site in Japan rebranded today in honor of the unlikely VIP of the last arc: Android 17.


ThinkGeek is selling Klingon alphabet magnets for your fridge.
These are pretty neat.
Jeff Goldbloom is in The Simpsons Now
Videogame website Gamespot somehow convinced Jeff Goldblum to read Seymour Skinner's part in the infamous (and infamously memed) "Steamed Hams" bit from The Simpsons. They posted the results on Twitter.
Ken Jeong is Short Round?!
Screen Rant claims that Ken Jeong has been cast as Short Round in Indiana Jones 5, which both isn't true and is authentically confusing, as there are only three Indiana Jones movies. What's that about refrigerators? Huh?
Our Sister Nation, Wakanda
San Antonio, TX, a town I lived in for several years in case you were interested, has announced a new Sister City relationship for the historic city, with Wakanda. Cute.