When a delayed launch left an S8-sized hole at Mobile World Congress last year, the start to the spring smartphone season felt a little so-so. Samsung wasn't going to make the same mistake again, so here it is, the new Galaxy S9 and S9+.

Vizio's Latest TVs Go All Quantum
At first glance, the S9's appearance might suggest that not a lot has changed. After all, while Samsung says the S9's display is a bit brighter and its bezels are a little slimmer, you're still getting the same extra-widescreen 18:9 AMOLED Infinity display we saw on last year's model. Even its dimensions are largely unchanged, with the S9 sporting a 5.8-inch screen, while the S9+ is staying pat at 6.2-inches.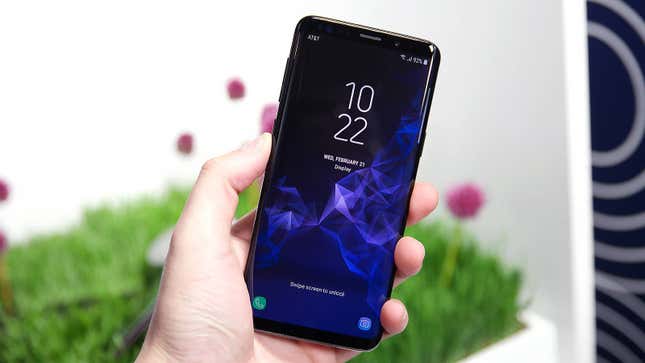 Sure, in back, things look slightly different now that Samsung has moved the fingerprint sensor below the camera, instead of putting it off to the right like it did before. And while the S9+'s new dual rear cam system with a 2x zoom is nice, we saw Samsung do that on the Galaxy Note 8 back in the fall. So as far as the S9's exterior goes, that's it for changes. I'm not gonna lie, I was hoping for more, but since the S8 was already an exceedingly pretty device, it's hard to be too disappointed.

But what's really exciting are all the changes going on inside. Now before we continue, please forgive me for getting extra technical, but I can't help i!. That's because aside from the S9's new stereo speakers (which are a first for a Galaxy Phone), many of Samsung's new advancement involve some sophisticated details about the S9 and its world-first dual aperture camera.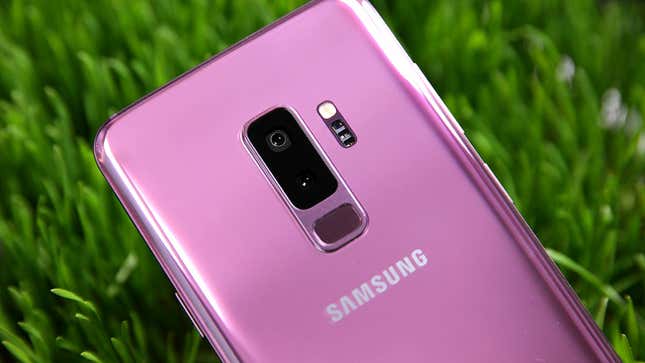 The aperture is literally the hole through which the light travels to the camera sensor. The lower the number the bigger the hole and the more light that's allowed in. The idea is that by letting the camera switch between f/2.4 and f/1.5 (the widest aperture available on smartphone so far), the S9 should produce even better photos in both bright light and super dark conditions. And when you combine that with a new 12-MP super speed dual pixel sensor, Samsung says the S9 can capture nearly 60 percent more light than before. Samsung has even improved the S9's multi-frame image processing, which now smashes together three sets of four photos shot back-to-back into one image, with more details and less noise that one would theoretically get from a single pic.

That's not the only new trick the S9's camera is sporting either. Using a new image sensor with dedicated on-board memory, the S9 can now shoot slow-mo videos at up to an eye-popping 960 fps in 0.2 second bursts. And don't worry about missing the moment with just a fifth of a second to work with, because Samsung's slow-mo can automatically detect action and trigger the camera to ensure you nail the shot. How well that feature actually works outside of the cool demo remains to be seen.
Bixby is also taking advantage of the S9's camera upgrades with a number of new additions to its sight-based Vision skills. Now, the S9 can do things like look at a piece of food and give you an estimate of how many calories it has, or let you try on different types of makeup from Sephora by pointing the selfie cam at your face and choosing a color.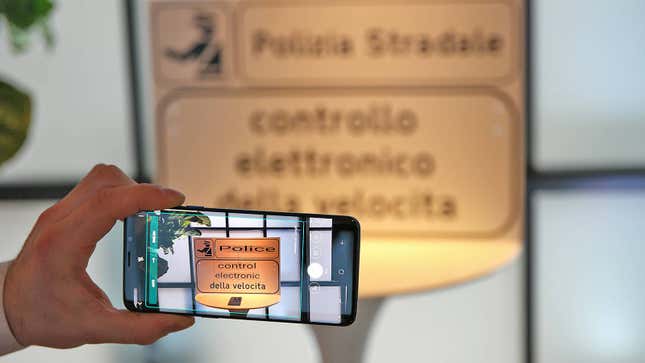 But perhaps the slickest new Bixby feature is its on-the-fly translation skills. Instead of entering characters into an app or taking a pic of a sign, all you have to do its point the S9's camera at some foreign words and it will technomagically replace the stuff you don't understand with a language you do.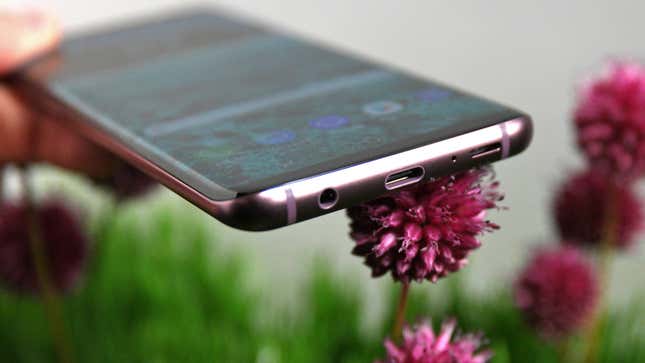 And as you would expect, the S9 is no slouch in the specs department either. It's got Qualcomm's new chip, the Snapdragon 845, along with 4GB of RAM (or 6GB on the S9+), 64GB of storage and a good 'ole microSD slot. And unlike Motorola, HTC, Google and Apple, which have all axed the headphone jack on their latest flagships, the S9 has retained its handy 3.5mm jack.
Now comes the silly stuff. After Apple launched Animoji on the iPhone X last fall, you knew it wouldn't be long until Samsung put out its take too. But instead of just using your face to animate a fuzzy bunny (which the S9 can totally do too), Samsung has gone full Bitmoji with its new AR Emoji feature.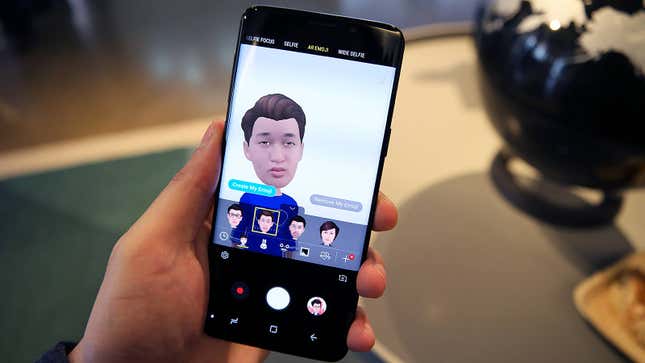 All you have to do is snap a selfie, and in a few seconds, your pic is transformed into a cartoony digital avatar, complete with the ability to change you skin color, hair, eye wear and even your you outfit. Then you can save them to the gallery and send them anywhere you like on social media.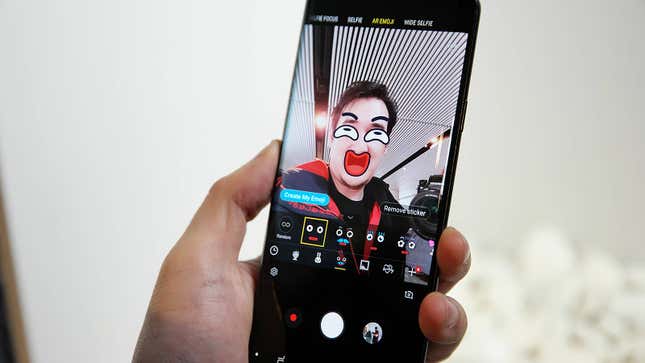 AR Emoji also respond to your face, so if you want to use them to send a wink or grin over the internet, you can do that too. That said, I think the best part about AR Emoji is the ability to put googley eyes on everything. It's kinda janky, kinda gimmicky and only a little fun, but I guess in a post-Emoji Movie world, this is the society we're living in.
Goddamn, that's about everything, and I didn't even get to talk about the revamped Dex Pad or the S9's new Intelligent Scan security, which mimics Apple's FaceID by combining the phone's iris sensor and face scanner into a single unlock system (that's another feature we're waiting for more details on). But with all this, it's clear the S9 represents the absolute best tech Samsung can cram in a phone, and from my short time with it so far, the S9 looks like a full-weighted retort to Apple's iPhone X.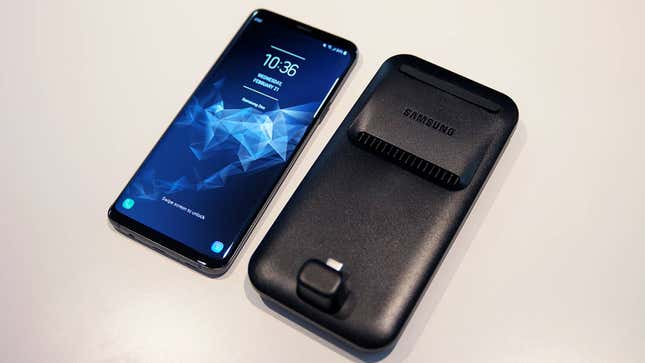 Samsung has not announced official pricing yet, but thankfully the company did say prices should be comparable to the S8 at launch. The S9 will in three colors: lilac purple, coral blue and black, with pre-orders going live on March 2nd, before phones ship two weeks later on March 16th.
Update: (12:45pm EST) AT&T has announced pricing. The S9 will retail for $790.20 and the S9+ will have a full retail price of $915.