What goes up toward space can come crashing down again—in the plains of Texas and the deserts of Saudi Arabia, through barn roofs and into the Amazon. Check out these photographs of battered and decaying pieces of rocketry that are now merely space junk.
Space junk around Baikonur Cosmodrome, Kazakhstan
G/O Media may get a commission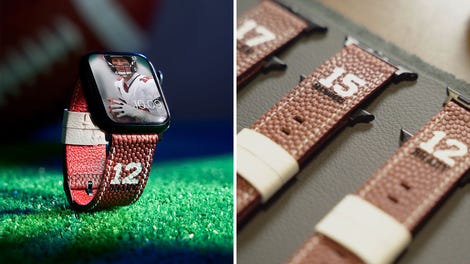 Official NFL PRODUCTS
Official NFL Apple Watch Bands
(via Eurasianet)
The 66-lb (30-kg) titanium pressurant tank from the second stage of a Delta 2, found near Seguin, Texas, January 1997
(via NASA)
The 550-lb (250-kg) main propelled tank of the second stage of a Delta 2 launch vehicle, landed near Georgetown, Texas, January 1997
(via NASA)
The 155-lb (70-kg) titanium motor casing of the third stage of Delta 2, also known as a PAM-D (Payload Assist Module-Delta), landed in Saudi Arabia, January 2001
(via NASA)
Pieces of the Chang'e II rocket, Jiangxi, China, October 2010
(via 163)
Debris from Long March 3A, Tianlin, Guangxi, April 2011
(via 163)
The wreckage of a North Korean rocket, launched on December 12, 2012 is seen at the Second Fleet Command's Naval Base in Pyeongtaek, South Korea.
(Photo by Yeong-Wook/DongA Daily/Getty Images)
A massive chunk of Ariane 5, which landed in Mexico, January 2013
(via Reddit)
Parts from the Chinese Long March-3B carrier rocket (which helped to launch the Chang'e 3 with the moon rover Jade Rabbit), went through the roof of a barn in Watang, China, December 2013
(via Ecns)
More debris from the Chinese Long March-3B carrier rocket, December 2013
(via ChinaNews)
A carbon-fiber panel from the Ariane 5 rocket launched in French Guyana last year, found by an old fisherman in a remote part of the Amazon, Salinopolis, Brazil, April 2014
(via Eclipse Tours)
A piece of rocket in a flood, Altai region, Russia, June 2014
(via English Russia)
There is a growing amount of space waste around us
(via ESA)