A crop of new skyscrapers are coming due over the next five years–and with them, nine new observation decks that will be taller than any others ever built.
The Council on Tall Buildings and Urban Habitat recently released a study about observation decks that looks at how they've evolved over the last 120 years of skyscraper design, and where they'll be in the future. While the Washington Monument once had the tallest publicly-accessible space in the world, that reign ended in 1889 when the Eiffel Tower was completed. But neither could compare to the rising heights of tall, steel-framed buildings on the horizon: By 1931, the Empire State Building had clinched the title, with more than 250 feet on Eiffel's crowd-pleaser.

While it's eye-opening to see the historical trends mapped, it's the Council's future projections that are really impressive. The US currently has one tower in the top ten tallest decks–the Willis Tower, at #9–by 2020 it'll barely make the top 20 at #17 worldwide. Instead, the vast majority of high observation decks will be in Asia, with a few cameos by skyscrapers in the Middle East. For reference, only the shaded buildings are finished right now:
G/O Media may get a commission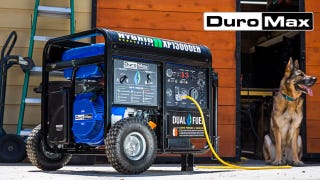 Black Friday Sale
DuroMax Generator Sale
So nine out of the ten tallest decks, in 2020, aren't even finished yet. And while it's still unclear how much it will cost to access most of them–which will either be tourist attractions or bars and restaurants–we do know a bit about what some of them will be like.
Topping the list is the 3,280-foot Kingdom Tower, a skyscraper planned in Jeddah that depends on several technologies, like its elevators, that are being purpose-built for the tower. Some of those elevators will reportedly lead directly to the the observation floor, located 2,091 feet above ground level on a cantilevered oval deck:
The runner-up, Suzhou Zhongnan Center, isn't due to be finished until 2020, and details about its deck are few and far between–but you'll notice there's a wide 144-foot gap between its height and that of Kingdom Tower's deck.
It's followed by Goldin Finance 117, aka China 117 Tower, a thin, tapered tower designed by Arup with what the architects describe as a "diamond-shaped" atrium at its highest level, which will house a restaurant, infinity pool, and lounge.
Meanwhile, today's current tallest observation deck (which hasn't even officially opened yet, though you can see the view below) at Shanghai Tower will slip to #5 in the next five years. From its 121st floor deck, which is enclosed by a glass curtain wall, you can reportedly see for 30 miles.
AP Photo/Paul Traynor
It's easy to read into this list: Perhaps the US is falling behind because observation decks aren't popular as entertainment there. Or perhaps it's because the tallest American buildings are mostly residential these days, rather than office-built, like many of those in Asia.
Either way, we're about to see a slew of new tall buildings come due–and within just a few years you'll need to live in (or travel to) Asia to experience the highest human-built places in the world.
Lead image: Wuhan Greenland Center under construction in 2013. Image by MT on Wikimedia.

---
Contact the author at kelsey@Gizmodo.com.