In a cinematic universe often criticized for its lack of strong villains, a strong villain is the star of their biggest movie yet.
"In many ways, it's Thanos' movie," said Stephen McFeely, one of the co-writers of Avengers: Infinity War. He and Christopher Markus, who wrote Captain America: The Winter Soldier and Captain America: Civil War, were given the unenviable task of writing two movies that will act as an ending to an (eventually) 11-year, 22-movie story. The way they did it was by focusing on the character who has been teased several times before but never explored fully explored: the Mad Titan, Thanos.
"We take this from [comics writer Jim] Starlin," Markus explained last June on the Atlanta set of Infinity War. "Thanos is an amoral philosopher. He's not the Devil, although he does sometimes have the Devil standing next to him. We wanted that all the way through—to have a villain with understandable motivations and emotions. Thanos has family. Thanos has two daughters, that we know of. Thanos has eight million backstories in the comics [and] they're all kind of sad."
That's a lot to convey to audiences in a movie that already stars dozens of heroes. So writers Markus and McFeely positioned Thanos as Infinity War's main character, with the Avengers acting as support.
"Very often, in the screenwriting weeds, we're trying to get a character up and off the ground and so the bad guy tends to be a foil for the development of the hero," McFeely said. "That's not the case here. If anything, it's the opposite. Our heroes are foils for the villain, whose story we need to tell at large."
G/O Media may get a commission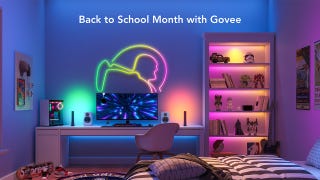 Back to School
Back to School Month with Govee Sale
Thanos' quest centers on collecting the six Infinity Stones, which have been set up over the course of many, many Marvel movies. However, Marcus and McFeely needed to make sure that bit of narrative added to the rest of the movie and wasn't just a simple collection.
"Every time you collect [a stone], it can't just be a check mark," McFeely said. "It has to do something characterful. It's got to move the plot forward but it also has to [have] stakes and cost for characters at the time, so that it's not just a shopping spree. I think we've done that and boy, we're going to wrench some emotion out of each and every one of those moments that we can."
Despite all the care given to building up Thanos as a villain worthy of this film, the Avengers couldn't be totally ignored (it's still called "Avengers": Infinity War, after all). With virtually every single hero in the Marvel arsenal available to them, Markus and McFeely did their best to shake things up at every turn, mainly by putting together characters audiences wouldn't expect.
"At a certain point you just go [motions hands] 'That's funny and that's funny,'" Markus said. "What's a story that could get those two [characters] together?"
"We talked a lot about—it's a Joe Russo term—'strange alchemy,'" McFeely explained. "What is it when you put two characters together, even in a fairly normal traditional situation, but since we've invested in those characters and known them, we're sort of delighted in the idea of those two people rubbing against each other."

McFeely knows it's largely the reason the first Avengers movie was so popular, after all—it brought together the heroes for the first time against a seemingly insurmountable foe. Now the roster of heroes is so much greater—but so is the threat. "Hopefully we have the same kind of magic here," said the writer.
Read more of our reports from the set of Avengers: Infinity War below. The movie is hitting theaters on April 27.