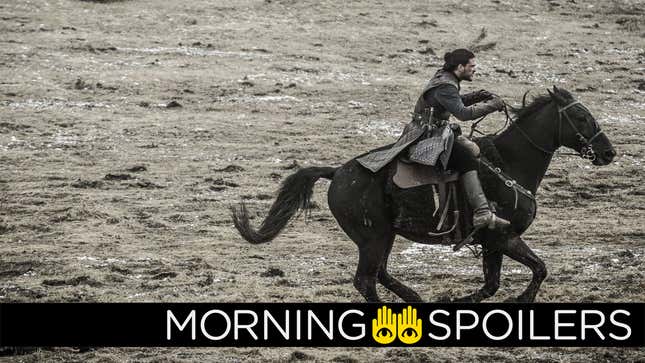 Avengers: Infinity War may not be as connected to its follow-up movie as we thought. Take a look at a few new minor characters from the world of Rogue One. A familiar face is returning to Doctor Who. Plus, what's to come from the CW/DC TV universe, new looks at tonight's Agents of SHIELD, and the Minecraft movie gets a writer. Spoilers!

The Boogeyman's Sophie Thatcher Reveals What Draws Her to Dark Characters | io9 Interview



Avengers: Infinity War
Kevin Feige appears to distance the previously announced connection between the next two Avengers movies.
There's a reason we have publicly called the first one 'Infinity War' and the second one 'Untitled,' because the movies we were developing were not — certainly there's a connection, there are with all our movies — but it's not a first part and a second part. It's a whole movie and a whole story, and then a whole movie and a whole story. That's about all I can say. It's certainly inspired by everything that has come before and everything that is hinted at before.
[IGN]
---
Minecraft
Screenwriter Jason Fuchs has been tasked with writing the latest draft of the script. [Variety]
---
Jurassic World 2
Speaking with Spanish News Outlet, EFE, director J.A. Bayona compared the film to The Empire Strikes Back and The Wrath of Khan.
It will be darker and scarier than the previous film. Obviously when you have Chris Pratt, it will also be very funny. But it will be darker. It is a second step in a trilogy, and the second step is always dark as in The Empire Strikes Back or the Wrath of Khan, which are the examples you always get.

The film takes the story where it has never been before. To me, it surprised me. We are going to places where the saga has never been before, and at the same time we are paying tribute to the franchise. We will take it a step further. There are things that will happen that people are not expecting and they really are shocking.
---
Rogue One: A Star Wars Story
Entertainment Weekly has revealed the names of a few minor characters in the film as retro-styled trading cards. See more at the link.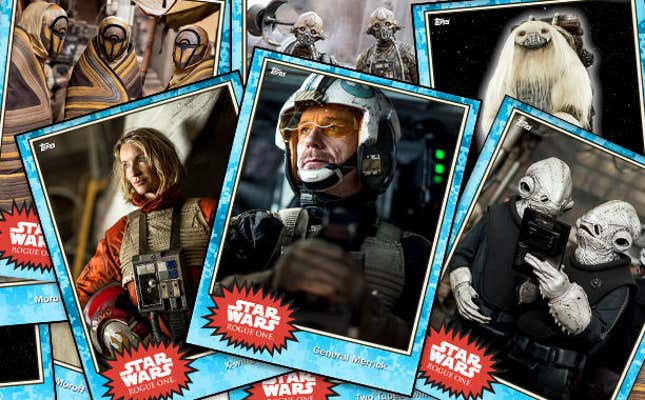 ---
Meg
Production has begun on the giant shark movie, so to celebrate, here's a picture of two people who are not giant sharks.
---
Transformers: The Last Knight
Michael Bay has confirmed John Turturro and John Goodman will appear in the movie, in a new video on the last day of filming in the UK.
---
Game of Thrones
Watchers on the Wall reports that Daenerys could be planning a major alliance with the North in the coming season. Apparently Emilia Clarke has been filming scenes at the location for the Dragonpit that include Dany meeting with Brienne and Davos.
While that may not be enough to confirm a Targaryen/Stark team-up just yet, another report from Spanish site Los Siete Reinos reveals that there are also scenes being shot featuring Jon Snow riding south to meet with Theon Greyjoy—who is, of course, now allied with Daenerys as well. This could also confirm that Yara is the Greyjoy who gets captured by Euron, as part of his new alliance with Cersei Lannister.




---
Van Helsing
The show will return for a second season. [Coming Soon]
---
Doctor Who
Michelle Gomez tells The Music she'll be filming a new appearance as The Master soon:
Weirdly, this is the sort of crunch week where I get to find out exactly what I'm going to be doing next. I can officially say that I will be starting back on Doctor Who soon, so that's one thing.


---
Class
Episode three is titled "Nightvisiting." Here's a new picture. [Life, Doctor Who, and Combom]


---
Supergirl
A synopsis for episode four, "Surviors," has been released, introducing Miss Martian.
When Kara (Melissa Benoist) and Alex (Chyler Leigh) investigate the murder of an unregistered alien, the trail leads to an alien fight club run by Roulette (guest star Dichen Lachman), the ringmaster who commands aliens to fight in mortal combat for the entertainment of rich humans. While trying to stop the fighting, Supergirl and Martian Manhunter find themselves up against a surprising opponent. Meanwhile, Hank (David Harewood) is thrilled to have found another Martian and tries to get to know M'Gann (guest star Sharon Leal) better. Supergirl takes Mon-El (Chris Wood) under her wing and begins to train him. James Marshall directed the episode written by Paula Yoo & Eric Carrasco.
As previously hinted, Kevin Smith's episode of the show is titled "Supergirl Lives."
---
Legends of Tomorrow
Here's a new synopsis for "Abominations."
When the Legends discover a time Aberration in 1863, they find themselves fighting for survival during the Civil War with Confederate soldiers who have been turned into zombies. With the Civil War outcome hanging in the balance, Jax (Franz Drameh) must participate in a daring mission by going to a slave plantation with Amaya (Maisie Richardson-Sellers).

Meanwhile, Sara (Caity Lotz) begins to feel the burden of the decisions she has to make as the leader, and Ray (Brandon Routh) struggles to find his purpose on the team. Victor Garber, Dominic Purcell and Nick Zano also star.
---
The Flash
Episode five of the current season will introduce Caitlin's mother:
Desperate to understand what is happening to her, Caitlin (Danielle Panabaker) visits her mother, Dr. Tannhauser (guest star Susan Walters), a renowned biomedical researcher, in the hopes that her mother can provide some answers about Caitlin's growing meta-human powers.

However, when Dr. Tannhauser treats her daughter like a test subject, Caitlin grows cold and brings up past wounds causing the two to have a major blowout. Meanwhile, after a mysterious new meta-human attacks Central City, Barry (Grant Gustin) tries to convince Julian (Tom Felton) to let him assist on the case.
---
Arrow
DC comics character the Human Target makes his debut in the appropriately titled "Human Target."
When Tobias Church (guest star Chad L. Coleman) captures and tortures one of Oliver's new recruits, Oliver must turn to an old friend, Christopher Chance (guest star Wil Traval) AKA the Human Target, for help. Meanwhile, Felicity's (Emily Bett Rickards) worlds collide when Detective Malone (guest star Tyler Ritter) joins the ACU.
---
Agents of SHIELD
Here's a brief new synopsis for the sixth episode of the season, "The Good Samaritan."

The shocking origin story of Robbie's transformation into Ghost Rider is revealed as the lives of Coulson and the team hang in the balance.
Finally, Simmons bumps into an old friend while apartment hunting, and Coulson gets into a race with Robbie Reyes in two new clips from tomorrow's episode.
---
Additional reporting by Gordon Jackson. Banner art by Jim Cooke.