Some couples are lucky enough to share not only their passions for one another, but their joint passion for scientific exploration. These photos, taken mostly in the first half of the twentieth century, celebrate couples who expanded our knowledge of the world together.
The Smithsonian has several sets of amazing historical photographs on its Flickr account — including some stellar portraits of women in science. In the "Science Service" set, the Smithsonian includes several scientist couples, including globetrotting field researchers, couples spending quality time in the lab, and married folks who jointly won the Nobel Prize.
Here is the description for the top image:
Frédéric Joliot (1900-1958) and Iréne Joliot-Curie (1897-1956) had been jointly awarded the Nobel Prize for Chemistry in 1935. This photograph may have been taken in the 1940s.
Science Service [Smithsonian Flickr via The Angel of History via It's Okay to Be Smart]
This photograph from a 1932 handmade New Year's greeting card shows nutritionist Annie Barbara Clark Callow with her husband, the physicist E.H. Callow, who worked at the Low Temperature Research Station and the Department of Scientific and Industrial Research, Cambridge University.
G/O Media may get a commission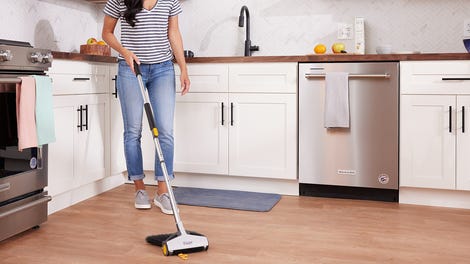 BOGO 50% Off
Flippr - BOGO 50% Off
In this 1935 photograph, botanist Wilmatte Porter Cockerell (1871-1957) is shown with biologist Theodore Dru Alison Cockerell (1866-1948), whom she married in 1900. In 1901, he named the ultramarine blue chromodorid Mexichromis porterae in her honor. Before and after their marriage in 1900, they frequently went on collecting expeditions together and assembled a large private library of natural history films, which they showed to schoolchildren and public audiences to promote the cause of environmental conservation.
Mary Knapp Strong Clemens (1873-1965) is shown at the New York Botanical Garden with her husband, Joseph Clemens (1862-1936), an ordained Methodist minister who had become a U.S. Army Chaplain in 1902. While stationed in the Philippines, Mary and Joseph began collecting botanical specimens for scientists throughout the world. After his death, Mary carried on that work for almost 30 years, eventually immigrating to Australia, where she worked at the Queensland Herbarium.
Odd Dahl (1899-1994) was a Norwegian adventurer who had no formal scientific training but later made great contributions to research on atomic energy. He read physics while a member of Roald Amundsen's expedition to the Arctic. During the 1930s, Odd Dahl joined the staff of the Carnegie Institution in Washington as a member of the team developing the Van de Graff generator and later led Norway's atomic energy program. He is shown here with his wife Anna "Vesse" Dahl.
Pierre Curie (1859-1906) and Marie Sklodowska Curie (1867-1934) were jointly awarded the Nobel Prize for Physics in 1903 for discovery of the radioactive elements polonium and radium. Even today, the Curies provide inspiration for popular culture and textbook discussions of science. This photograph was circulated during the 1960s as publicity for an educational television program about the discovery of radium.
Carnegie Museum botanist Otto Emery Jennings (1877-1964) and Grace Emma Kinzer Jennings (d. 1957). Grace Jennings was a fourth-generation Pittsburgher whose family had established one of the city's major iron foundries. She was an assistant in botany at the Carnegie Museum, 1902-1918, when they married and she accompanied him on nearly every collecting field trip.
This photograph of Marion Langhorne Howard Brickwedde (1909-1997) with Ferdinand G. Brickwedde (1903-1989) was captioned: "Dr. F. G. Brickwedde and his wife with the apparatus for making heavy water." Marion Brickwedde earned a B.S. in chemistry (1929) and M.S. in physics (1930) from University of Georgia. During her career, she taught physics at George Washington University and Pennsylvania State University, and was on the research staffs of the U.S. National Bureau of Standards and Los Alamos National Laboratory.
Biochemist Gerty Theresa Radnitz Cori (1896-1957) and her husband Carl Ferdinand Cori (1896-1984) were jointly awarded the Nobel Prize in medicine in 1947 for their work on how the human body metabolizes sugar.
British archeologist and anthropologist Mary Douglas Nicol Leakey (1913-1996) and her husband Louis Seymour Bazett Leakey (1903-1972), 1962.