The FDA just issued a warning not to use the weight-loss supplement Oxy ELITE Pro Super Thermogenic — because it contains fluoxetine, also known as Prozac. Not a drug humans should be taking unaware, and one that can cause serious side effects, including suicidal thoughts and seizures.
From the report:
FDA laboratory analysis confirmed that Oxy ELITE Pro Super Thermogenic (Lot# 216732, Exp. 04/17) contains fluoxetine. Fluoxetine is an FDA approved drug in a class of drugs called selective serotonin reuptake inhibitors (SSRIs) used for treating depression, bulimia, obsessive-compulsive disorder (OCD), panic disorder, and premenstrual dysphonic disorder (PMDD).

Uses of SSRIs have been associated with serious side effects including suicidal thinking, abnormal bleeding, and seizures. In patients on other medications for common conditions (aspirin, ibuprofen, or other drugs for depression, anxiety, bipolar illness, blood clots, chemotherapy, heart conditions, and psychosis), ventricular arrhythmia or sudden death can occur.
The FDA also notes that dietary supplements are increasingly laden with hidden drugs and chemicals, even when they're advertised as "all natural," and that the hidden ingredients can cause great harm. Case in point: in 2013, more or less the same product, Oxy ELITE Pro, was pulled from shelves in Hawaii, after it was associated with 29 cases of liver failure (one of which was fatal.)
UPDATE: There's a new wrinkle in this story, which suggests that while all supplements should be approached with caution, the fake ones should be avoided at all costs. The makers of the Oxy ELITE Pro, USPLabs, have issued a statement that the product tested by the FDA was a counterfeit version of a supplement it no longer produces. A statement from company spokesperson Michael Petruzzello reads:
On Saturday, February 28, 2015, the Center for Drug Evaluation and Research (CDER) issued a Public Notification on the contamination of a dietary supplement product labeled as OxyElite Pro Super Thermogenic (referred to below as "OEP") with a prescription drug active ingredient, fluoxetine. USPlabsimmediately conducted an investigation and determined that the product shown in the Public Notification and tested by FDA was not manufactured or distributed by or for the Company. It is a counterfeit.

The genuine OEP has not been manufactured since October 2013. OEP has always been labeled with a three year expiration date. The last lot manufactured had an expiration date of 10/16. The counterfeit product expiration date of 04/17 is therefore obviously fraudulent.

The genuine OEP, made in capsules, uniformly had lot numbers beginning with the numeral "4". The counterfeit product lot number of 216732 is therefore obviously fraudulent. The Company has verified that no OEP product (or other Company product) has ever had the lot number of 216732.

Neither USPlabs nor its contract manufacturers has ever ordered or in any way handled fluoxetine for any purpose of any kind.

The Company has encountered counterfeit versions of its dietary supplement products in the past, and has reported these problems to FDA as well as to State and other Federal officials.

Although USPlabs discontinued the manufacture and distribution of its products containing DMAA in October 2013, other companies did not. Numerous dietary supplement products containing DMAA are still available through the internet. The Department of Defense Human Performance Resource Center website lists 43 such products, and the National Medicines Comprehensive Database lists 313. A Brazilian website, as example, offers OEP for sale and that may well have been the source of the counterfeit product that FDA tested. The Supplement Facts for the counterfeit OEP product shown in the Brazilian website are not the same as the genuine USPlabsversion. And, in fact, online complaints about the Braziliancounterfeit OEP can be found identified by lot number 216732 and expiration date 04/17 — the same identifiers as the counterfeit tested by FDA.

USPlabs has offered to work with the FDA to help prevent the distribution of counterfeit versions of its dietary supplement products.
G/O Media may get a commission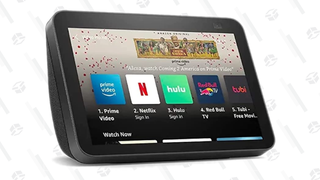 ---
Contact the author at cheryl.eddy@io9.com.