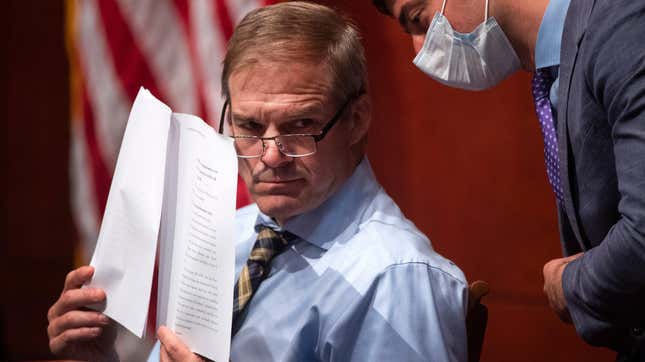 House Republicans, as early as this week, could have a powerful new panel at their disposal to grill Big Tech companies over long-alleged, but largely unproven accusations of conservative censorship and government collusion. Though Democrats and tech industry experts refute the committee's premise, the panel could nonetheless force tech companies and their executives directly into the center of a meandering GOP spotlight seeking to reveal even the tiniest modicum of evidence that tech companies carried out censorship actions on the orders of the federal government.
Tyler Posey Almost Played a Lost Boys Vampire
The soon-to-launch investigative panel, called the Select Subcommittee on the Weaponization of the Federal Government, will be helmed by Ohio Representative and Donald Trump hard-liner Jim Jordan, according to recent reports from Axios and CNBC. At its highest level, the broadly defined new panel possesses the authority to investigate the ways federal government agencies collect information on U.S. citizens. The committee, which could include a handful of the party's most hardline conservatives in its midst, was reportedly part of a concession to the most extreme fringe of his party by California representative Kevin McCarthy in order to secure his role as the current Speaker of the House. Its top target, according to Axios, concerns the "politicization of the FBI."
As part of its remit, the "Weaponization" committee could demand major tech platforms like Meta and Twitter fork over copies of emails, memos, and other communications it had with the White House as part of an effort to reveal perceived collusion. The committee's interest in tech companies reportedly stems, in part, from alleged internal documents revealed by Elon Musk in the so-called "Twitter Files." Though a vocal segment of the public believes that series of sporadic document dumps shows evidence of rampant liberal bias pervading tech, many others, including major Republican figures, were left unimpressed by the findings.
The tech-focused probe will reportedly scour tech companies' communication to look for evidence of government wrongdoing in its interactions with the platforms. Additionally, the committee will look for "evidence" that tech companies purposely attempted to silence conversations around hot-button issues like Covid-19 responses and CDC policies. The committee will also almost surely dig deep into any details regarding the Hunter Biden laptop scandal, which censorship-focused Republicans have pointed to as their smoking gun proving the existence of a shadowy tech boogeyman.
Presumed committee chair Jordan gave the public a preview of what's likely to come last month when he sent letters to the CEOs of five tech companies where he accused them of being, "out to get conservatives," colluding with the Biden administration. Less than a day later, former president Donald Trump released his own dramatic, but largely incoherent free speech policy plan similarly taking shots at tech companies.
"The collusion of Big Tech and Big Government to advance censorship undeniably undermines liberty and jeopardizes our country's First Amendment values and protections," Jordan wrote in his letters.
Numerous Democratic lawmakers, including Arizona representative Raul Grijalva, said it was highly unlikely the new committee would receive support outside of the Republican party.
"I don't think there is any potential merit because it's already tainted," Grijalva said in an interview with The Intercept. "The preface to this has been all the comments the Republican majority in the House have made relative to the FBI, relative to spying on Trump, relative to going through our mail and conspiracy theories. It's already tainted. It has no value."
California representative Ro Khanna, meanwhile, pushed back against Republicans who are currently attempting to brand the new "weaponization" committee as a type of spiritual successor to the 1975 Church Committee.
"To compare these is a total misunderstanding of what the Church Committee did," Khanna told The Intercept. "The question is, if we are going to focus on making sure the government isn't engaged in surveillance, we should be engaged in passing the Internet Bill of Rights and engaged in passing legislation that will prevent that surveillance."
White House spokesman on investigations Ian Sams, likewise derided the committee as focused on, "pointless political stunts."
Though a panel developed with a stated mission of sussing out perceived tech bias might seem like bad news for tech companies, NetChoice, a major trade organization whose association members include Google, Meta, and TikTok, appeared to welcome the investigations.

"After two years of single-party rule, Congress, with the help of this House committee, will uncover how much our government worked to suppress free speech online," NetChoice Vice President and General Counsel Carl Szabo told Gizmodo. "No politician or government employee should be allowed to use their power to suppress Americans' free expression."
Szabo went on to say the committee could play an important role in restoring trust in the government on online free speech, regardless of its actual findings.
"Best case scenario, it finds nothing and is able to help restore confidence in our law enforcement," Szabo added. "Unfortunately, the more likely scenario is that much of what we have learned from the Twitter files is only the tip of the iceberg, and the coercion, politicization, and weaponization of our law enforcement goes much deeper."
It's possible the GOP's new investigations could unearth groundbreaking, never before revealed documents that prove tech companies are indeed carrying out anti-democratic censorship at the behest of government actors. It's far more likely, however, that this new House Select Committee will follow a similar path trodden by the Select Committee on Benghazi, and numerous other politicized committees before it: plenty of bluster, but little substance.